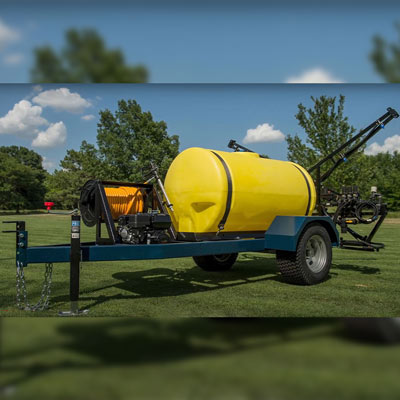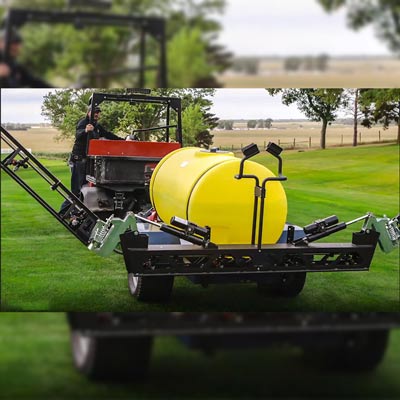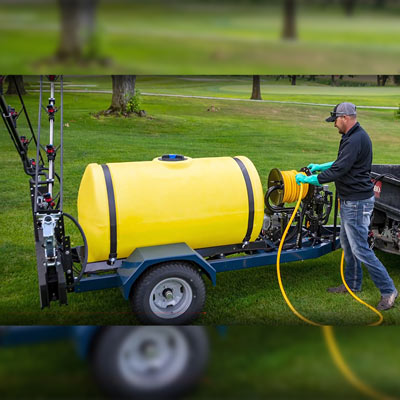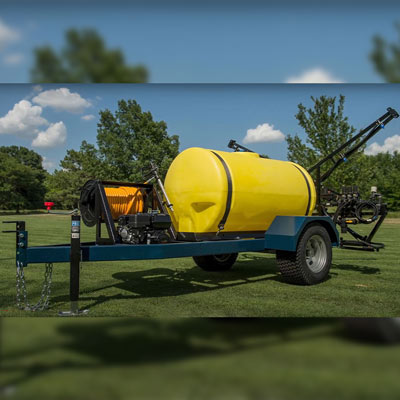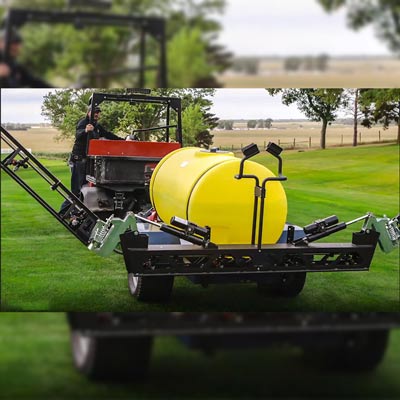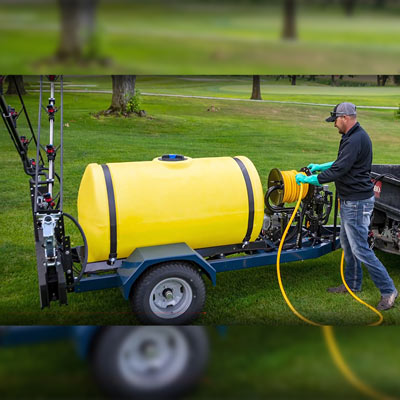 Golf Course Sprayer
Turf Sprayer
Our golf course sprayers provide excellent turf coverage, giving you a balanced spraying program that saves you time and money. Versatile and durable, this golf course irrigation trailer is available in 100, 150 and 200-gallons with options to help you customize for your specific spraying needs. Great for a variety of applications including municipal maintenance, spraying recreation field and parks, and even applying herbicides! Our turf sprayer package starts with a sturdy, reliable base that allows you to add on for your specific application. Our 100-200 gallon tanks come with engine/pump, hose and reel, and boom options so you get exactly what you need. Call us to help find the right trailer size and options for your turf-spraying job!
Golf Course Sprayer Features
100, 150, and 200 Gallon Tanks
5.5 HP Honda Engine (Engine Options Available)
22 Pro Series Handgun
Hose Reel with Side or Vertical Swivel Mount
8 Roller Cast Iron Pump or Diaphragm Pump
Boom and Nozzle Options
Golf Course Sprayer Benefits
Precision Spraying
Easy to maneuver
Customizable
Height adjustable hitch
Versatile Watering Applications
Cost-Effective
Water Trailer Details
Our golf course sprayer is not just for course spraying and watering, it's also perfect for applying chemicals and herbicides. The turf sprayer is fully customizable, giving you the ability to meet your exact job requirements. Available with the Pro series 22" handgun, along with boom and nozzle options, you can be sure of consistent spraying across your course, no matter the terrain. Designed for precision, you are able to spray without worrying about overlapping outside the areas you are watering or spraying. Our 5.5 Honda or a Briggs and Stratton engine, along with the golf course sprayer hose and reel, with side or vertical swivel mount, give you the flexibility you need for effective golf course irrigation. Choose from our 100-200 gallon tanks to meet your golf course irrigation and maintenance needs.
Golf Course Sprayer Specifications
Tank
100-200 Gallon Polyethylene Tanks
Base Trailer
Straight-Welded Axel with 1 ¾ Spindles
1250 lb., 5 Bolt Hubs
23 x 10.5 x 12 Turf Tires
2000 lb. Jack Adjustable Pin
Hitch for ¾ Diameter Pin
Safety Chains
Trailer Options
Tank Saddle for 100, 150, or 200 Gallon Tank
Hose Reel with Side Mount or Vertical Swivel Mount
Hand Gun Holder with Hose Wrap
Fenders- Light Duty
Light Kit with Mounting Brackets
20.5 x 8 x 10 Pro Tour Tires
Pump and Engine Options
Centrifugal, Diaphragm and Roller Pumps Available
Honda and Briggs and Stratton Engines Available
Boom Options
Boomles BXT and Hamilton Nozzles
Standard 3 Section Spray Booms 28 and under
Other Options
Hose and Reel Kits
Booms & Boomless Boom Assembly
Nozzles
Plumbing and more
Golf Course Sprayer Applications
Our turf sprayer is a great addition to your golf courses, sports and recreations fields, parks, and municipal watering and upkeep program. This durable golf course sprayer package fits easily on the back of golf course and utility vehicles, pickup trucks, or tractors. This sprayer allows you deliver water and herbicides where you need them most, so you can maintain a beautiful, green course. Our customizable golf course sprayer gives you a complete tank and sprayer package for all your watering needs. For more information on our golf course maintenance equipment, call us!
Applications:
Golf Course Irrigation
Municipal Maintenance and Irrigation
Parks Maintenance
Sports and Recreation Fields
Herbicides
525 Water Trailer Questions and Answers
Golf course sprayers are very versatile and can accommodate any number of booms, giving you the flexibility to pick the right one to fit the application. The spray booms include:  Boomless BXT and Hamilton nozzles and standard 3 section spray booms 28' and under.
Our golf course sprayer improves turf coverage of your course or green by providing a balanced spraying program. You have multiple options to customize your golf maintenance equipment to meet your exact terrain and watering needs. Our turf sprayer delivers water or herbicides with precision and consistency, spraying only where you want with no overlapping or over-spraying. This steady spraying provides you with a greener, more desirable course or grass.