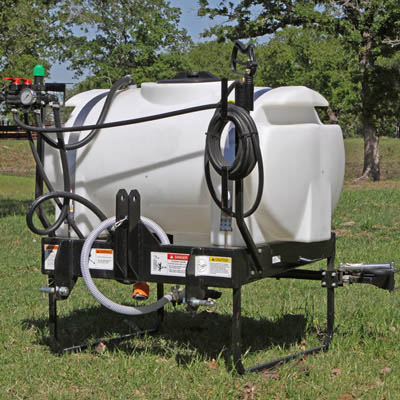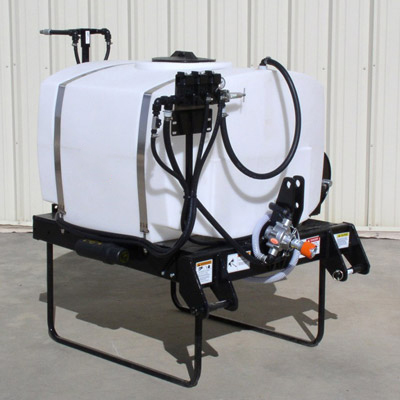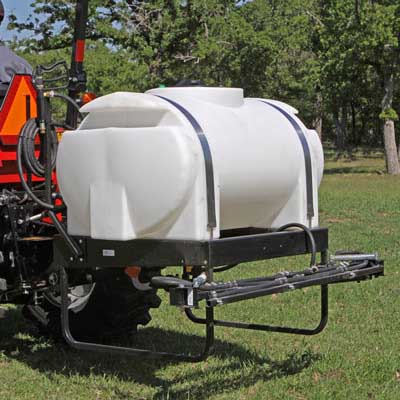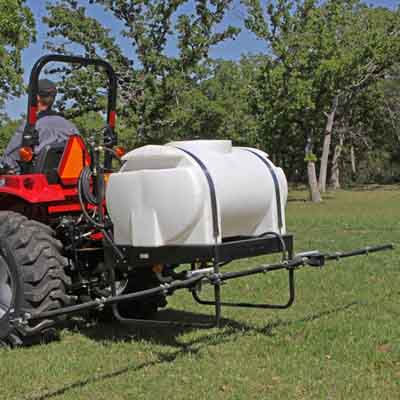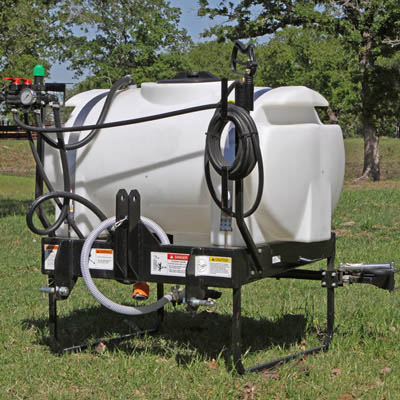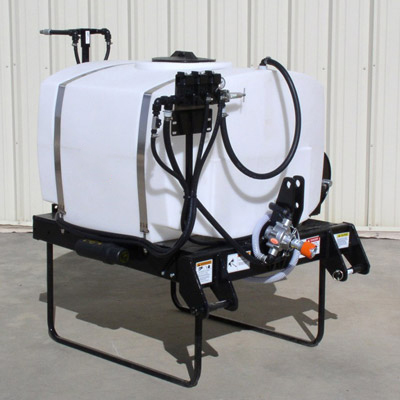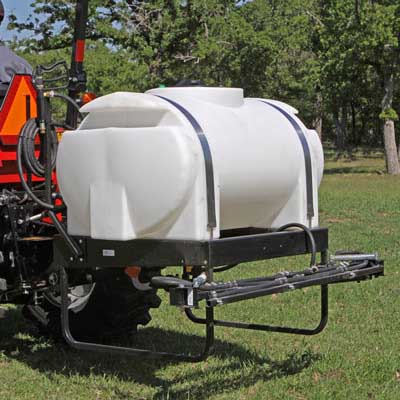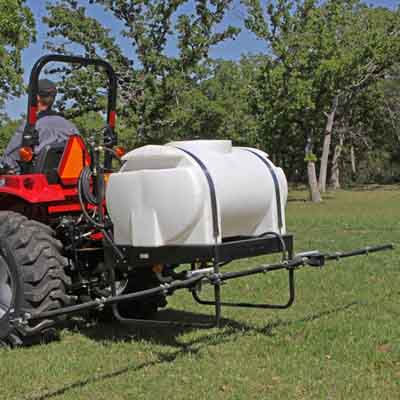 3 Point Hitch Sprayer
Three Point Tractor Mounted Sprayer
This versatile 3-point hitch sprayer applies ag chemicals evenly and efficiently. 3-point sprayers are available in 50, 100, or 200-gallon tank sizes, and can be customized to fit your farming application. The three-point hitch style helps increase the tractor's traction, making it ideal for agricultural use. This tractor mounted sprayer includes commercial features function on a small tank sprayer.
3-Point Hitch Sprayer Features
Tank sizes of 50, 100 or 200 gallons
CDS/John Blue Diaphragm PTO Pump
Hypro manual control
3-Point Hitch Sprayer Benefits
Mounts easily to utility tractor
Greater towing traction
Trigger gun and hose
3-Point Hitch Sprayer Details
The tractor mounted 3-point sprayer applies ag chemicals evenly and efficiently, and is often chosen for spraying small fields, pastures, trees, fence lines, vegetation, or livestock. Choose between the 50, 100 or 200 gallon 3-point hitch sprayers for the one that best suits your operational needs. The 3 pt hitch sprayers are preferred for the additional traction they give the tractor when used in the field.
This tank sprayer mounts easily to a utility tractor and can be equipped with either a 14' to 27' boom for small acre applications, or a boomless nozzle for brushy pastures. The 3-pt hitch sprayer is equipped with a PTO driven roller pump (Hypro or John Blue). With an operating pressure of 580 psi, 15' of high-pressure hose is included, a Hypro manual control with two on/off valves, a pressure gauge, and pressure relief valve. The Hypro trigger gun provided is easy to handle. This 3-point hitch sprayer is delivered fully assembled and ready for use.
3-Point Hitch Sprayer Specifications
| | |
| --- | --- |
| Sprayer Tank | 50, 100 ELLIPTICAL TANK SIZES 200 GALLON PCO TANK |
| Pump | HYPRO ROLLER PUMP OR CDS/JOHN BLUE DIAPHRAGM PTO PUMP |
| Boom | 10'/14' BOOM OR BOOMLESS NOZZLE SPRING BREAKAWAY BOOM PROTECTION |
| Operating Pressure | 580 PSI |
| 3 Pt Hitch | FOR THE 50/100 GALLON, CATEGORY I HITCH; FOR THE 200 GALLON, CATEGORY II, III HITCH |
| Trigger Gun | HYPRO MODEL 3381-0043 TRIGGER GUN |
| HYPRO MODEL 3381-0043 TRIGGER GUN | TRIGGER GUN, 15' HOSE, HOSE WRAP, HYPRO MANUAL CONTROL VAVLE |
3-Point Hitch Sprayer Applications
Use the 3-point hitch sprayer as a small acreage sprayer, for spraying orchards, livestock, or as a utility sprayer. The 3 point sprayer mounts easily to a tractor and can spray fields with a boom attachment.
3-Point Hitch Sprayer Frequently Asked Questions
3-Point Hitch Sprayer Questions and Answers
Many tow hitches use a drawbar, which is effective and common. However, the 3-point hitch on this tractor mounted sprayer outperforms the drawbar in several areas and is popular for use in agricultural settings. The three point hitch is a stiffer hitch that allows the weight and forces generated by towing to the rear axle of the tractor. This is beneficial in that it allows a lighter weight and more maneuverable tractor to be used in situations that would not otherwise be practical. Also, it causes less compaction damage to the soil while producing an equivalent amount of work with less fuel. Yet another benefit, it can prevent the tractor from flipping backwards if the tow unit has a collision in the field.
In addition to the three-point hitch sprayer unit, there are many other options available for agricultural use, whether for ag spraying, storing fuel for farm equipment use, or storing mixed fertilizers and other solutions.