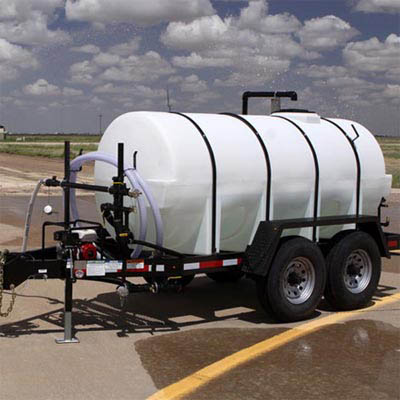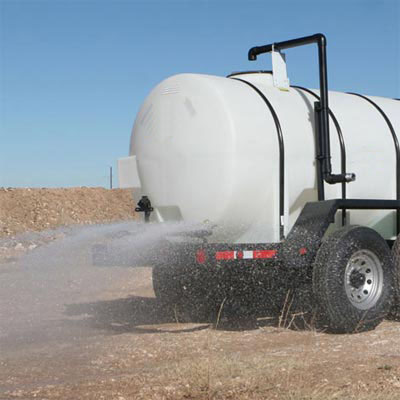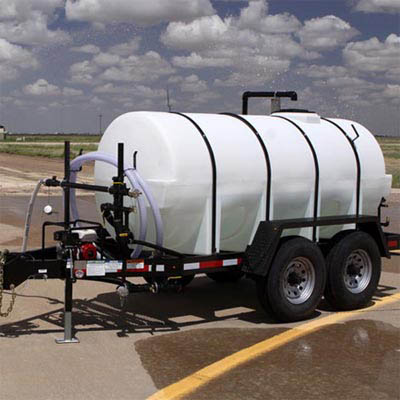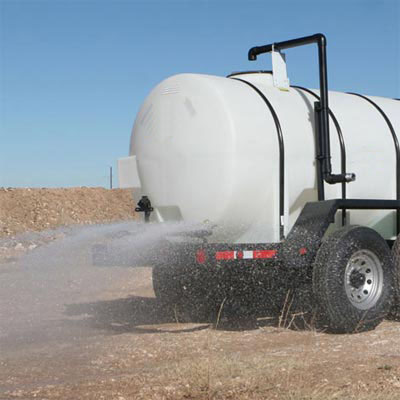 Water Wagon for Sale
Express 1025 Gallon Water Wagon
The water wagon for sale is a DOT Compliant water storage solution for large projects. The Express 1000 gallon water wagon is a good choice when projects require a large amount of water to get the job done. With a durable polyethylene tank and steel trailer, our water trailer is equipped to handle dust suppression, washing out stalls, watering vegetation, and other applications.
Looking for other features? We have an assortment of water trailer vendors with an extensive offering of styles, sizes, and components at exceptional pricing. All capacities listed are for use with water storage. We ship from warehouses across the U.S. and our team will work with you to provide the equipment that fits your needs, delivered within the time frame that you need it. Contact Us for information on other liquid storage options.
1000 Gallon Water Wagon Features
Full fenders with diamond tread
Powder coat black acrylic finish
6" channel iron frame
4 horsepower Honda engine
1000 Gallon Water Wagon Benefits
Large capacity water hauling
DOT compliant water wagon trailer
Wide range of functions
Corrosion resistant discharge bar
Water Wagon for Sale Details
The water wagon for sale is made of white polyethylene material that is durable and translucent to check water levels and keep a record of how much water is left in the tank. The water tank is also resistant to different chemicals and water treated liquids, creating more application versatility for the water trailer.
The 1000 gallon water wagon features numerous functional components that sets it apart from others on the market. Each water wagon for sale is equipped with double free backing surge brakes that enables safe stopping when hauling a large tank of water. Other components include DOT-compliant lights and tandem axels. These additional water wagon trailer components enable it to excel in different areas.
Express 1025 Gallon Water Wagon Specifications
Trailer
DOT-Compliant
Tank
1025 Gallon Polyethylene Drainable Leg Tank
Dimensions
(L x W x H)
200" x 81" x 88"
(with fenders and fill kit)
Frame
6" Channel Iron
Axles
7,000 lb. Tandem Slipper Spring
Tires
16" on EZ Lube Hubs with 8 Lugs
Hitch
2-5/16" Ball or 3" Pintle
Brakes
Double Free Backing Surge
Water Trailer Applications
The water trailer can assist in numerous projects. Some common uses include watering livestock, washing equipment, and arena spraying. With its durable construction, the water wagon for sale is adept at hauling water to and from different locations, either on public roadways and off-road to remote construction or agricultural sites.
For freeze protection for your water trailer or skid, our Water Trailer Heater Blankets are exactly what you need . When cold weather affects the viscosity of fuel, fluids, and other materials you can lose production time, adding additional costs. Power blankets keep your tanks and smaller corrugated/steel tanks at constant temperature, preventing fluids from freezing in extreme conditions. We customize thermal blankets to meet your specific needs, no matter the tank size or shape. Call us today to find out more!
Water Wagon Frequently Asked Questions
Water Wagon for Sale Questions and Answers
Our 1000 gallon water wagon comes equipped with a 4 horsepower Honda engine and a 2" Tsurumi Aluminum Pump. Other features include a diamond tread fender, galvanized spray bar, and DOT-compliant led brake lights. If you are interested in a more powerful motor, we can have one installed. Please keep in mind that pricing will change accordingly. Call our product experts at 1-863-261-8388 to discuss this option and pricing.
Yes, our water wagon also comes in a non-DOT version. In fact, many of our trailers come with DOT and non-DOT options.