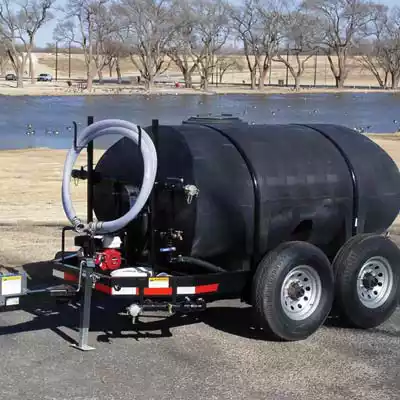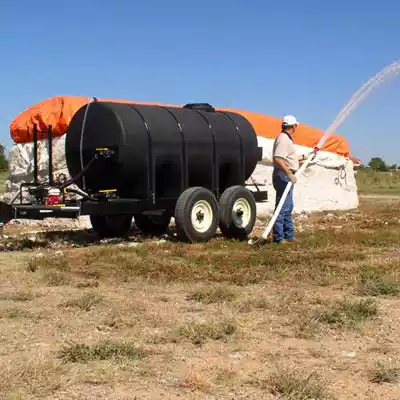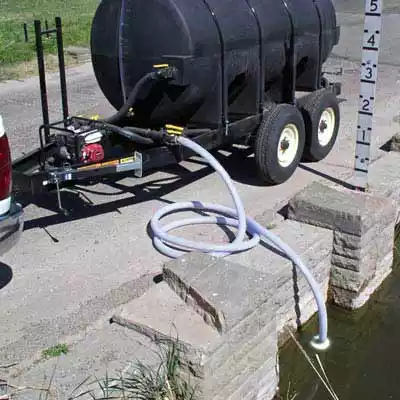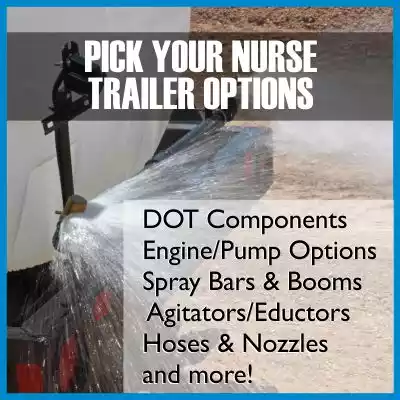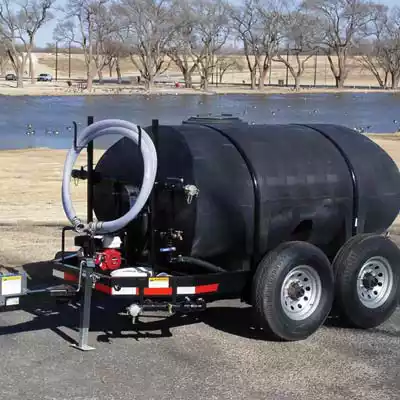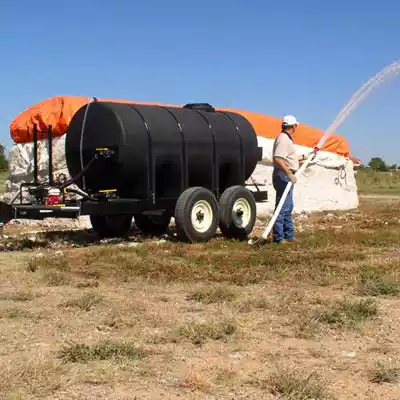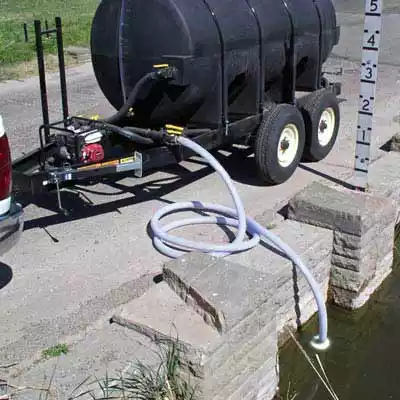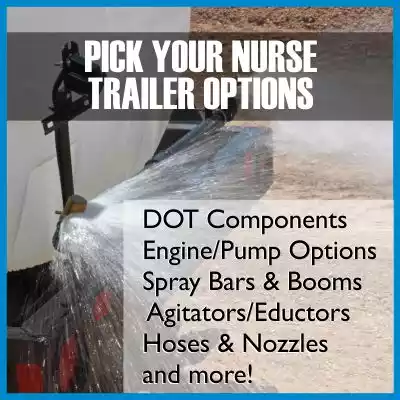 Fire Fighting Trailer
500, 800 or 1,025 Gallon Fire Water Trailers
A reliable fire-fighting trailer that you know you can count on is important to have when it comes to emergency preparedness. Since fires don't always happen in convenient roadside locations, this fire suppression water trailer is durably built for off-road use. In addition to fire suppression, this versatile trailer's also a favorite for use in transporting water, landscape watering, and controlling dust.
Looking for other features? We have an assortment of water trailer vendors with an extensive offering of styles, sizes, and components at exceptional pricing. All capacities listed are for use with water storage. We ship from warehouses across the U.S. and our team will work with you to provide the equipment that fits your needs, delivered within the time frame that you need it. Contact Us for information on other liquid storage options.
Fire Fighting Trailer Features
500, 800, or 1,025 gallon sized algae resistant tanks
4 HP Honda engine and 2" Tsurumi pump
6" channel iron frame
Fire Fighting Trailer Benefits
Durable and built for off-road use
Fill water tank easily with three fill options
Targeted spraying with fire hose
Fire Fighting Water Trailer Details
Included in the fire suppression trailer package are features that are key to success in preventing a fire's spread. Choose from three sizes (500, 800 or 1,025 gallons) for the portable fire-fighting water tank that best suits your work site's needs. With the algae resistant tank, you will have peace of mind in leaving the water tank filled during the peak of fire season. This keeps the portable fire-fighting water tank ready for deployment at just a moment's notice. The fire-fighting trailer's spray bar has a 25' spray coverage area, perfect for prewetting strategic areas for fire prevention. When a fire needs direct attention, the fire-fighting water trailer also is equipped with a 25' fire hose and nozzle that can provide an adjustable targeted spray. The nozzle is adjustable for either a straight stream or a fan spray.
Several options are available for refilling the portable fire-fighting water tank, giving you the flexibility to decide which is best for the situation at hand. Use the tank's fill well, the quick fill fitting, or else the pump to draw water through the hose. The 2" Tsurumi pump is used for either filling the water tank or for pressurized spraying and is powered by a 4 HP Honda engine. With these methods of filling the fire fighting water trailer, you can utilize nearly any water source nearby, whether a hydrant, water supply tank, pond, or river.
As a companion to the fire fighting trailer, we also carry fire gel—a fire retardant gel spray made of superabsorbent polymer that can absorb more than its own weight in water. Fire gel is a thermal protective coating that will insulate the outside of buildings for up to 24 hours if misted with water regularly. Fire gel can also be used with the fire skid unit. For more information on the fire skid unit, see the PDF of specs below in the Downloads section.
Note: A 500 gallon fire-fighting water tank trailer fills in approximately 5 minutes when using the pump provided.
Fire Fighting Trailer Specifications
Industrial Trailer
Designed for Off-Road Use
2" Ball Hitch (Adjustable), 2,000 lb. Jack, Safety Chains
Tandem Surge Brakes, 6" Heavy Duty Channel Iron Frame
15" Tires and Spring Axles (DOT Compliant Models Available)
Water Tank
500, 800 or 1,025 Gallon Algae Resistant Black Tank
Engine
4 HP Honda Engine
Water Pump
2" Tsurumi Pump
Other Features
20" x 2" PVC Fill Hose with Pond Strainer, Foot Valve, and Fire Hydrant Adapter
25' x 1 ½" Fire Hose and Adjustable Nozzle, Curbside Fillwell
Galvanized 2" Suction and Discharge Manifolds with Brass Ball Valves
Accessories
25' ¾" Rubber Hose and Trigger Gun
Fire Fighting Water Tank Trailer Applications
This fire fighting water trailer is a popular choice for managing grass fires and bale fires. It is also useful when strategic fire suppression measures are needed. The fire trailer is also used for transporting water, spraying livestock and landscaping, spraying trucks and equipment, and spraying roadways for dust control.
Fire Fighting Water Tank Trailer PDF
For freeze protection for your water trailer or skid, our Water Trailer Heater Blankets are exactly what you need . When cold weather affects the viscosity of fuel, fluids, and other materials you can lose production time, adding additional costs. Power blankets keep your tanks and smaller corrugated/steel tanks at constant temperature, preventing fluids from freezing in extreme conditions. We customize thermal blankets to meet your specific needs, no matter the tank size or shape. Call us today to find out more!
Frequently Asked Questions
Fire Fighting Trailer Frequently Asked Questions
This Fire Trailer model is not designed for use on public roadways. Instead, it is specifically designed to be an affordable and versatile trailer for use in off-road environments. * However, we do also carry DOT compliant water tank trailers that can be used on public roadways. Please contact us for more details and pricing.
The black tank on this generator water combo trailer makes it algae resistant. The color of the tank helps create a climate inside the tank itself that is less favorable for algae to grow.
This water tank is not rated for use with potable water. For storage and hauling of potable water, certain NSF resins are required to protect the quality and safety of drinking water. We do carry a wide selection of potable water tank trailers that are rated for storing and transporting drinking water. Please contact us for more information.