BULK WATER TANK OVERVIEW
One Clarion offers bulk water tanks, each with different advantages and capacities for bulk liquid or dry goods storage projects. We provide everything from corrugated steel tanks, plastic poly tanks, fiberglass tanks and oil tanks. Matching the proper bulk storage tank to your location and application is extremely important. Use our bulk liquids storage tanks for water, food production, fire prevention, wineries, agriculture, and chemical industries. For help choosing the best water storage tank for your project or for pricing, please call us at 863-261-8388 or click the button below.
BULK WATER TANK DESIGN
Our bulk water tanks are designed to be durable, sturdy, and versatile. Ideal for use in community potable water supply, oil disposal, dry or bulk product storage, our bulk storage tanks are engineered to meet your specific needs. Bulk tanks have multiple applications, are built to the highest standards, are long-lasting and durable. Tanks can be customized for your specific project, and have a wide range of additional options available. All our tanks are specifically designed with you in mind.
Bulk Water Tank Specifications
| Tank | Capacities | Material | Accessories |
| --- | --- | --- | --- |
| Bolted Steel Tanks | 4000 to 2,868,000 Gal | Powder-coated steel panels bolted with custom rubber gaskets | Aluminum geodesic dome roofs, roof venting, and roof hatches, manways for roofs, Insulation packages, catwalks, level indicators, and heaters. |
| Corrugated Bolted Steel Tank | Capacity 722 to 651,777 Gal | Carbon Steel Panels, G115 and G140 zinc galvanized | Full guardrails/OSHA caged exterior ladder systems, anti climb for ladder rungs and cage, deck access openings, side shell manways, catwalks, roof cap walk arounds, frost free vents, bridges. |
| Fiber Glass Tank | 800 to 50,000 Gal. | Fiberglass Resin | Adhesive kit, anti-vortex baffles, bulkhead fittings, couplings, down pipes, fill wells, covers and manways, flanged connections, gussets, heating and insulation, ladders and cages, saddles, vents and more. |
| Poly Tanks | 10 to 20,000 Gal. | 100% Polythylene Resin | Customize with fittings. bolted, bulkhead, coupling, and spinweld fittings are all options, in addition to valves and strainers.  |
| Cone Bottom Tanks | 15 to 13,000 Gal. | Polyethylene Resin | Three types available. bolted, bulkhead, coupling, and spinweld fittings options, in addition to valves and strainers. |
| Oil Storage Tanks | 4,200 to 31,500 Gal | Steel Welded Construction | Fully fitted out to API 12-P configuration, large selection of optional fittings, hatches and walkways available. |
Bulk Water Tanks Applications
Our bulk liquid storage tanks are multifaceted, making the scope for these products applications substantial. Industries, such as agriculture, landscaping, firefighting, oil storage, and construction benefit from using our bulk liquid storage options. Bulk water storage tanks are great for agricultural chemical compounds, fertilizers, oil and fuel storage, drinking water, graywater, food industry, fire suppression, and more. Many of our tanks meet AWWA D103-09 and NFPA 22 standards, as well as API, EPA, and FDA standards, making them a great option for potable and non-potable water storage.
---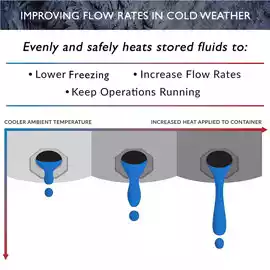 We offer Custom Tank Blanket Heaters for tank freeze protection. When cold weather affects the viscosity of fuel, fluids, and other materials you can lose production time, adding additional costs. Power blankets keep your tanks and smaller corrugated/steel tanks at constant temperature, preventing fluids from freezing in extreme conditions. We customize thermal blankets to meet your specific needs, no matter the tank size or shape. Call us today to find out more!
Questions? Our Bulk Storage Tanks team would be happy to support you. Call 863-261-8388 to discuss your above ground tanks requirements.