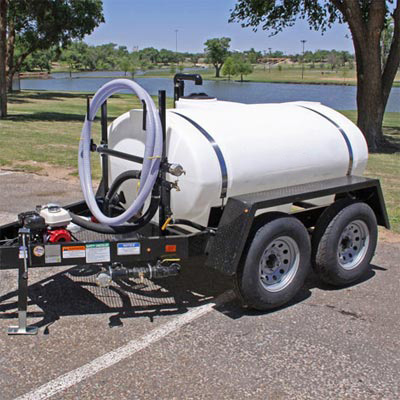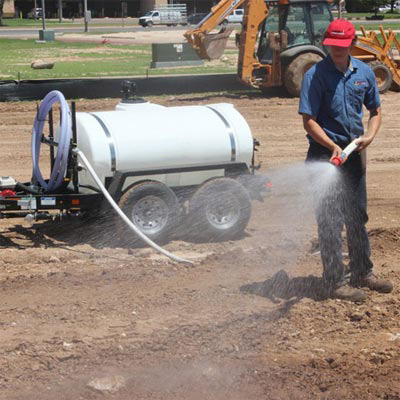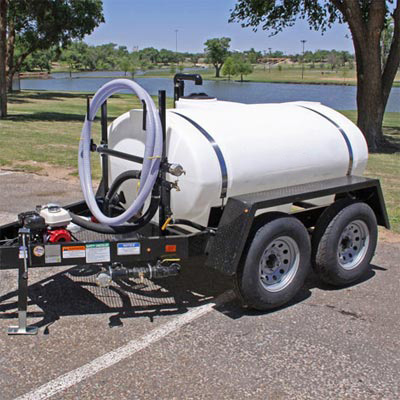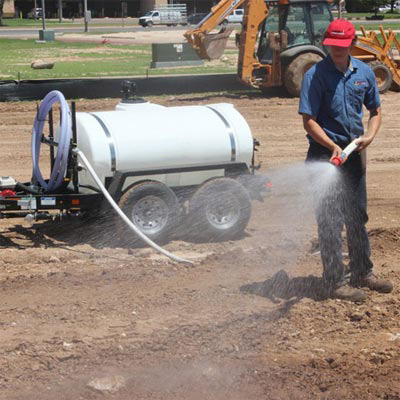 Water Wagons
500 Gallon Pull-Type Sprayers
The water wagon can deliver water to various project locations whether they're on open roadways or accessed through remote roads. This 500 gallon water wagon is DOT-compliant for use on public roads with LED lights and tandem brakes. When remote locations require mobile water storage, this 500 gallon pull-type sprayer trailer is perfect for the job. We also offer a wide selection of quality-built 300-to 1600 gallon water trailer for sale.
Looking for other features? We have an assortment of water trailer vendors with an extensive offering of styles, sizes, and components at exceptional pricing. All capacities listed are for use with water storage. We ship from warehouses across the U.S. and our team will work with you to provide the equipment that fits your needs, delivered within the time frame that you need it. Contact Us for information on other liquid storage options.
500 Gallon Water Wagon Features
4 horsepower Honda engine
140 GPM with galvanized fittings
2" height adjustable ball hitch
Diamond tread fenders
500 Gallon Water Wagon Benefits
DOT-compliant
Easy to maneuver
Easy fill options
Equipped for accessories
Water Wagon Details
The water wagon trailer frame is made from 6" channel iron and has DOT-compliant LED brake lights. With heavy duty fenders and a powder-coat black, acrylic finish, the 500 gallon water trailer is durable and has a GVWR capacity of 6,000 lbs. Water wagon prices will reflect the amount of accessories that can be added to each trailer.
The 500 gallon water wagon's elliptical leg tank is made from strong polyethylene to carry water from job-to-job. The 500 gallon pull-type sprayer makes for easy manuerverbility and transporting around job sites. Filling the tank will occur through the anti-siphon fill tube or by drawing water through the pump.
Express 500 Gallon Water Wagon Specifications
Trailer
DOT-Compliant
Tank
500 Gallon Polyethylene Elliptical Leg Tank
Dimensions
(L x W x H)
161" x 79" x 66"
Frame
6" Channel Iron
Axles
3,500 lb. Tandem Slipper Spring
Tires
15" EZ Lube Hubs with 6 Lugs
Hitch
2" Ball or 3" Pintle
Brakes
Double Free Backing Surge or Electric Brakes
Express 500 Gallon Water Wagon Downloads
Water Wagon Applications
The water wagon is able to assist in a wide variety of projects and applications. Projects like dust control, watering vegetation, or packing a site for foundation are applications that a small water wagon was made to handle. The 500 gallon water wagon for sale was specifically designed to be used in rigorous outdoor conditions.
For freeze protection for your water trailer or skid, our Water Trailer Heater Blankets are exactly what you need . When cold weather affects the viscosity of fuel, fluids, and other materials you can lose production time, adding additional costs. Power blankets keep your tanks and smaller corrugated/steel tanks at constant temperature, preventing fluids from freezing in extreme conditions. We customize thermal blankets to meet your specific needs, no matter the tank size or shape. Call us today to find out more!
Interested in water wagon prices? Contact us for details. The Express 500 Gallon Water Wagon is often used in:
Water Wagon Frequently Asked Questions
Water Wagon Questions and Answers
We make operating our 500 gallon water trailer easy. Each water wagon has a panel on the front detailing which valve(s) need to be turned on and off, for each operation. Furthermore, each water trailer comes with an operational instructions manual upon purchase. For further information on how to operate a 500 gallon water trailer, see our 500 gallon water wagon manual.
Understanding water trailer specs means understanding the fine details, or 'specifications', that make up that water trailer. This can be everything from the materials used to the exact dimensions of various parts of the trailer. Some of our 500 gallon water trailer specs include 3,500 lb Tandem Slipper Spring Axles, Double Free Backing Surge or Electric Brakes, and a 5 Year Tank Warranty, to name a few.