Portable Trailer Sprayer for Irrigation and Landscaping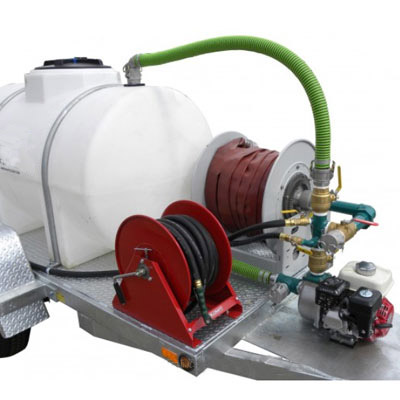 Homeowners' associations work hard to keep their neighborhoods looking their best. A very visible part of that job involves maintaining the landscaping and irrigation of communal property. Use a Water Trailer for Home Owner's Associations to minimize the labor expense spent in watering and spraying landscaping. Our water trailers arrive ready to use, complete with firehose and nozzle for targeted spraying use. They also feature a spray-bar on the back that broadcasts a wide spray swath for when you need to use the trailer as a portable irrigation system. As part of a portable HOA irrigation system, the portable trailer sprayer can save money and manpower.
Made in the USA, this water trailer is a portable irrigation system that lets you haul water, or apply fertilizer and pesticide solutions where needed. Disburse the water or solution in spot targeting with the fire hose and nozzle (included). Larger areas can be quickly covered by using the rear spray bar to broadcast spray as the trailer is towed. The water trailer for homeowner's association is designed for tree spraying, landscape irrigation, and even application of pesticides or fertilizer. It's a reliable, heavy duty portable irrigation system available in sizes ranging from 300 to 1,200 gallons, and with DOT or non -DOT trailer options.