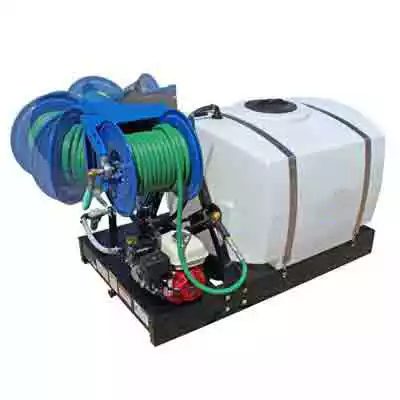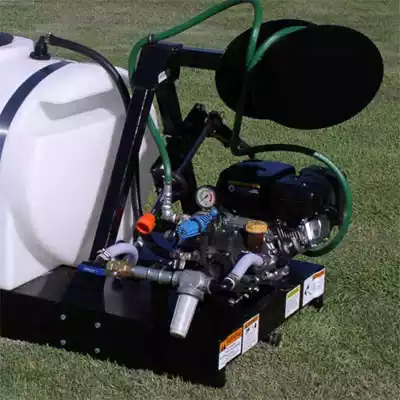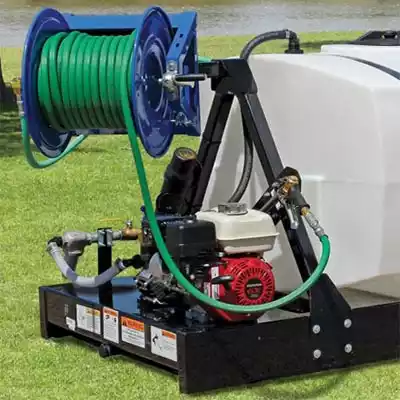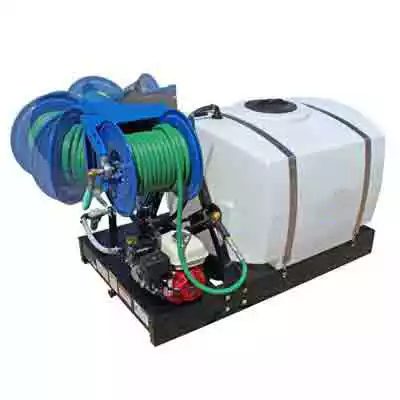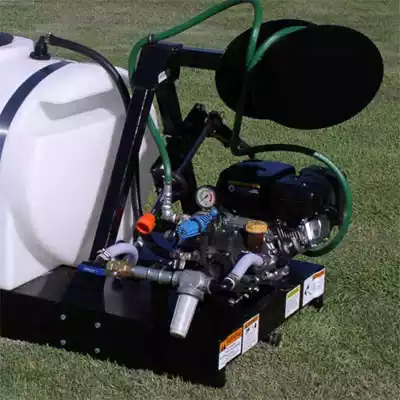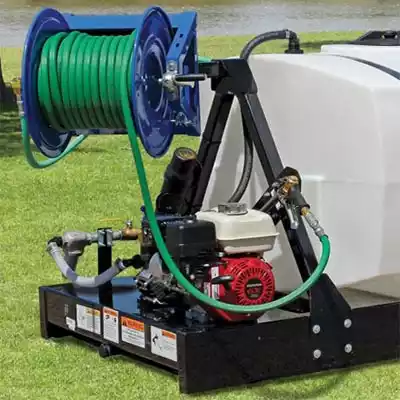 Skid Sprayer
Skid Sprayer for Sale
Our skid sprayer for sale is helpful for many spraying applications from landscape spraying to dust and pest control to livestock spraying. The skid mount tank sprayer ranges in size from 50 to 500 gallons.
Skid Sprayer Features
Heavy duty 4" channel iron frame
CDS/John Blue diaphragm pump
Honda or Briggs and Stratton Engine
180 Swivel Hose Reel
Skid Sprayer Benefits
Wide range of tank capacities
Heavy duty poly tanks
Able to be transported
Skid Sprayer Details
Sizes for the skid sprayer tanks include 50, 100, 200, 300, or 500 gallon capacities. The poly tanks for the power sprayer skids are made from heavy duty materials and feature swivel reel mounts for hand crank, spring rewind or electric reels. Our power sprayers also include spray guns and high-pressure hoses. Different additional products that can be used with power skid sprayers include the walking boom or the 20' receiver hitch boom that can help the skid mount sprayer with turf and landscape jobs or on sidewalks.
Skid sprayers can fit between the wheel wells of most full-sized pick-up trucks, allowing them to assist in projects and jobs in remote locations. The power sprayer skids come equipped with either a Honda or Briggs and Stratton engine that have either roller, piston, or centrifugal pumps.
Skid Sprayer Specifications
Capacity
50 to 500 Gallons
Frame
Heavy Duty 4" Channel Iron
Pump
CDS/John Blue Diaphragm Pump
Standard Accessories
200' PVC Hose
Hypro 'Long Throw' Gun
Hose Wrap
Hand-Operated Hose Reel
Optional Boom
8.5' Folded Width
20" Nozzle Spacing
Manual Fold
Receiver Hitch Mounting
Skid Mount Sprayer Applications
Our power sprayer skids assist in many different jobs. Their durability is useful for rural job sites or transportation by pickup truck from location to location. These skid sprayers can be used for deicing and other seasonal applications that require mobile, reliable, and powerful power water storage.
For freeze protection for your water trailer or skid, our Water Trailer Heater Blankets are exactly what you need . When cold weather affects the viscosity of fuel, fluids, and other materials you can lose production time, adding additional costs. Power blankets keep your tanks and smaller corrugated/steel tanks at constant temperature, preventing fluids from freezing in extreme conditions. We customize thermal blankets to meet your specific needs, no matter the tank size or shape. Call us today to find out more!
See more specifications here:
Power Sprayer Skid Frequently Asked Questions
Knowing the pressure rating of a sprayer can be a valuable tool in determining droplet size, spray angle, and flow rate. These factors can affect important elements such as range and overlap. The Skid Sprayer has several pump options from 4 to 20 GPM and up to 580 PSI.
The skid sprayer comes complete with everything you need to run two hose options and a spray bar. For further customization options, or a discussion regarding inlets and outlets, please call our product specialists at 1-863-261-8388.