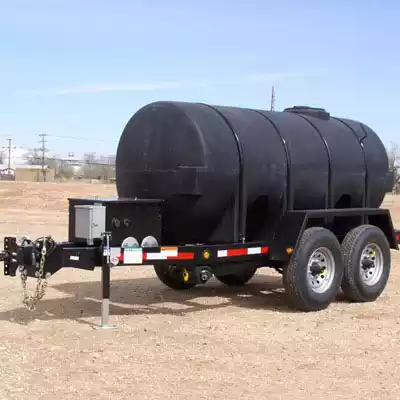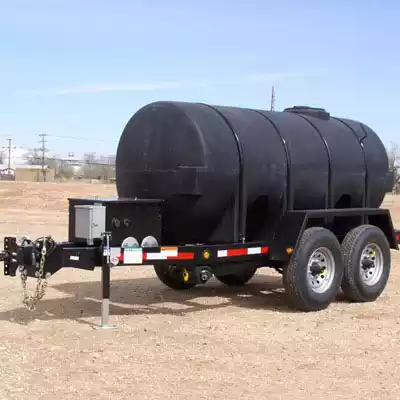 Trailer Mounted Water Tanks for Sale
1600 Gallon Water Tank Trailer
The trailer mounted water tanks for sale have volume markers and quick access discharge and filling points to enhance the efficiency with which operators can use the water tank. The 1600 gallon water tank trailer is a versatile, DOT compliant water trailer ready for a variety of tasks on different sites.
1600 Gallon Water Tank Trailer Features
DOT Compliant
4.8 HP Honda GX 160 gas engine
Galvanized decks
Gallonage indicators
1600 Gallon Water Tank Trailer Benefits
Custom accessories
Made for a variety of applications
Professional, high performance valves
Optional fire hydrant adapter
Looking for other features? We have an assortment of water trailer vendors with an extensive offering of styles, sizes, and components at exceptional pricing. All capacities listed are for use with water storage. We ship from warehouses across the U.S. and our team will work with you to provide the equipment that fits your needs, delivered within the time frame that you need it. Contact Us for information on other liquid storage options.
Trailer Mounted Water Trailer for Sale Details
The trailer mounted water tanks for sale are an elliptical white or black polyethylene leg tank with an ultimate capacity of 1600 gallons. The pump for the 1600 gallon water tank trailer has a max discharge head of 98' and a performance range with a max capacity of 185 gpm. The pumps specifications for the suction and discharge size are 2". The 1600 gallon water tank can be made NSF compliant for potable water with stainless steel hoses, and it is available separately if the trailer is not needed.
The 1600 gallon water tank trailer has a galvanized frame and deck material with dual and gooseneck trailers available. The electric brakes on all eight tires make the trailer a DOT compliant, reliable mobile water source. The trailer can even be taken out on the open road at highway speeds.
1600 Gallon Water Tank Trailer Specifications
| | |
| --- | --- |
| Trailer | DOT-Rated System |
| Tank | 1600 Gallon Elliptical White Poly Leg |
| Engine | 4.8 HP Honda GX 160 Gas Engine |
| Frame | Galvanized Frame and Deck Material |
| Performance Range | 185 GPM |
| Solids Handling | 1" Diameter; 30% Maximum Suspended Solids |
Trailer Mounted Water Tanks for Sale Applications
Applications for the trailer mounted water tanks for sale can range from construction jobsites, utilities tasks, and public works needs for municipalities. Industrial sites, parks, and airports could also benefit from a 1600 gallon water tank trailer. With high pressured water pumps capable of power washing, landscaping needs, and potable water storage, the trailer mounted water tanks for sale offer help for a variety of jobs, including:
For freeze protection for your water trailer or skid, our Water Trailer Heater Blankets are exactly what you need . When cold weather affects the viscosity of fuel, fluids, and other materials you can lose production time, adding additional costs. Power blankets keep your tanks and smaller corrugated/steel tanks at constant temperature, preventing fluids from freezing in extreme conditions. We customize thermal blankets to meet your specific needs, no matter the tank size or shape. Call us today to find out more!
Frequently Asked Questions
Trailer Mounted Water Tanks for Sale Questions and Answers
Generally, repairing poly tanks is not recommended. If you need a repair, please call our product experts at 863-261-8388. Under most circumstances, we will recommend replacement over repair. This is due to safety issues, the integrity and reliability of the tank's design, and cost savings to replace vs. repair. This is true for both water tanks and bands. Ignoring equipment damage can lead to further impairment and potentially dangerous situations. This includes cracked and unsecure tanks, which can leak or fall.
In this case, our 1600 gallon water trailer comes with a 4.8 HP Honda GX 160 gas engine. The engine weighs about 33 pounds and has a net torque of 7.6 lb-ft @2500 RPM. Furthermore, it has a fuel tank capacity of 3.1 liters and an oil capacity of .58 liters. Total dimensions are 12.2" L x 14.3" W x 13.6" H.