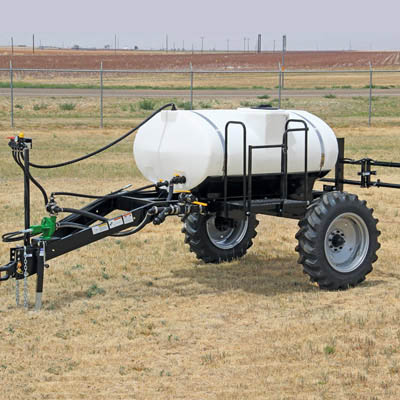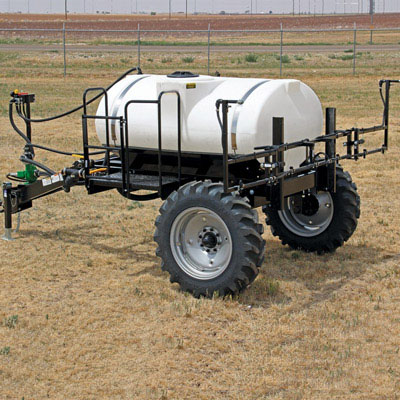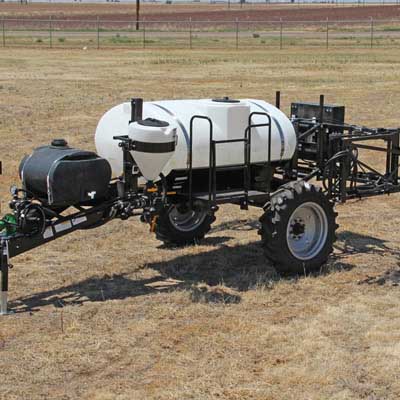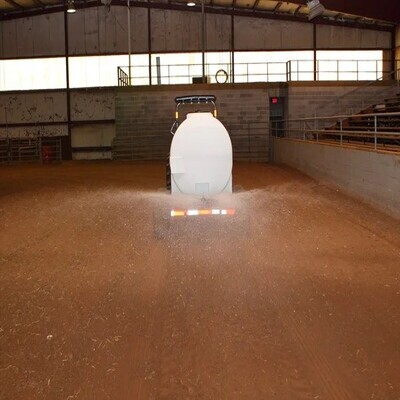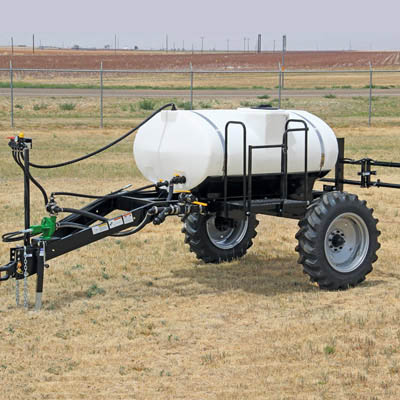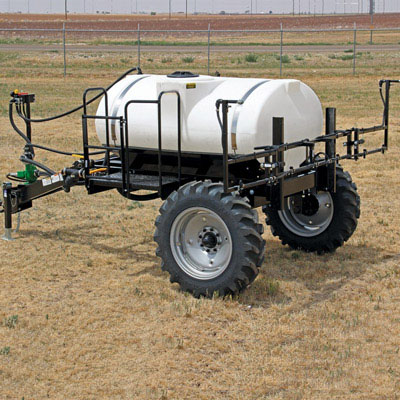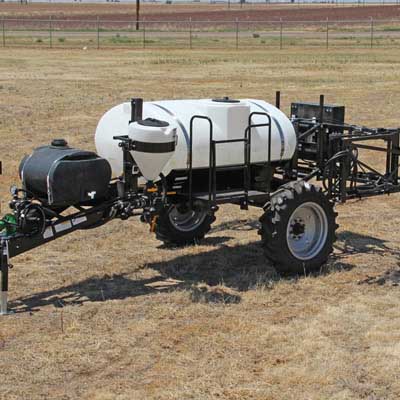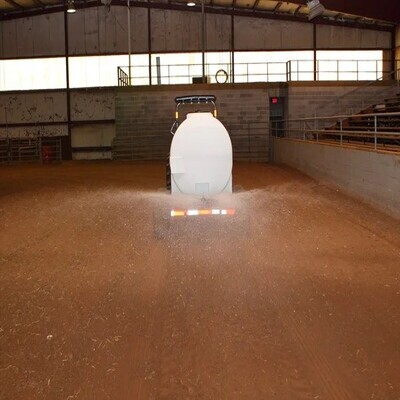 Pasture Spraying Equipment
Herbicide Sprayer| 500 Gallon Pasture Sprayer
Having the right pasture spraying equipment makes all the difference when it comes to winning the battle of the weeds. The 500 Gallon Pasture Sprayer is built for rugged use in pastures and ranchlands and will be key to helping you win the battle.
500 Gallon Pasture Sprayer Features
500-gallon elliptical spray tank
Tractor style tires
Heavy-duty hubs and struts
500 Gallon Pasture Sprayer Benefits
High clearance (28.5") spraying and rugged design
Extender boom provides far reaching fan spray
Breakaway springs protect the boom from obstacle impact
500 Gallon Pasture Sprayer Details
Invasive weeds don't stand a chance with this herbicide sprayer and durable high clearance trailer. The three-point hitch sprayer works well for smaller ag spraying applications. It has tank sizes of 500 gallons, as well as 50, 100, or 200 gallons available. The 300 gallon crop sprayer trailer might be another option to consider.
An herbicide sprayer and trailer all in one, with built-in high clearance for spraying over brush, tractor style tires, and extended spray boom reach, you won't be disappointed.
500 Gallon Pasture Spraying Trailer Specifications
| | |
| --- | --- |
| Spray Tank | 500 gallon elliptical poly tank, for herbicide spraying and other water-based solutions |
| Pump | Ace 206 hydraulic centrifugal pump with flange fitting plumbing |
| Trailer | 6" Channel Iron frame, heavy duty hubs and struts |
| Tires | 11.2-24" tractor style |
| Track Width | 60" or 80", 20 or 40" row spacing |
| Tip Spacing | 20" |
| Spray Swath | Up to 42" |
| Overall Length (unfolded boom) | 176" |
| Overall Height | 80" |
| Controls | Choice of manual or electric |
Pasture Spraying Trailer Applications
Use this mist sprayer in pastures, for even and efficient distribution of ag chemical spray solutions. The 500-gallon pasture spraying equipment is built specifically to take the rough conditions presented by spraying herbicides, pesticides, and fertilizer on small to mid-sized ranchland pastures. This herbicide sprayer can also be used to efficiently apply insecticides, fertilizers, and other water-based chemical solutions.
Pasture Spraying Trailer Frequently Asked Questions
Pasture Spraying Trailer Questions and Answers
The High Clearance Sprayer Trailer can use any number of booms, giving you the flexibility to pick the right one to fit the application. These include: Extender, "8420," "8220," and VSB boom.
You might find that a nurse trailer helps maximize your spraying time. Use a nurse trailer to haul herbicides and other water-based chemical solutions to your pasture mist sprayer for fast in-field refilling. This means that you can quickly refill without costly down-time.