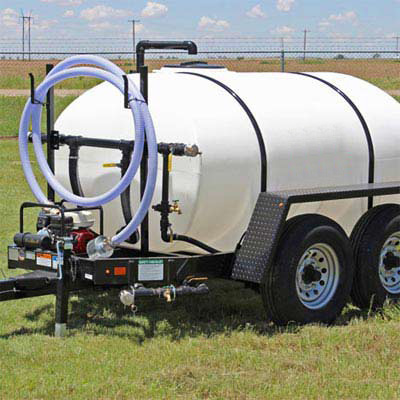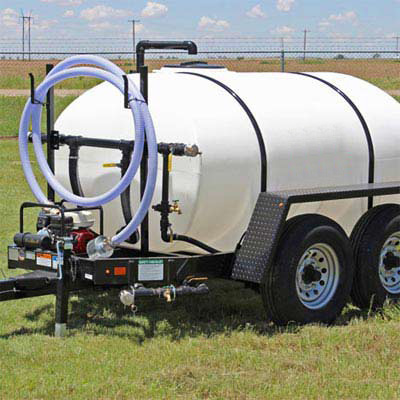 Farm Water Wagon
800 Gallon Water Tank Trailer
The 800 gallon water tank trailer is DOT compliant and can haul a large amount of water without a CDL, depending on local restrictions. Whatever water hauling requirements a project has, the farm water trailer will provide a lot of water in one tank that can be conveniently transported on the open road from job to job.
Looking for other features? We have an assortment of water trailer vendors with an extensive offering of styles, sizes, and components at exceptional pricing. All capacities listed are for use with water storage. We ship from warehouses across the U.S. and our team will work with you to provide the equipment that fits your needs, delivered within the time frame that you need it. Contact Us for information on other liquid storage options.
800 Gallon Water Wagon Features
800 gallon elliptical farm water tank
2" 4-horsepower Honda engine
Anti-siphon fill
Diamond tread fenders
800 Gallon Water Wagon Benefits
DOT compliant
Two tank-filling options
Low center of gravity
Adjustable height ball hitch
Farm Water Wagon Details
Farm water wagons offer increased safety in transport and feature tandem surge brakes that allow the trailer to brake when the towing vehicle does. Heavy duty fenders protect the tires, and the water trailers also feature LED lights that are DOT compliant. All these components give confidence when transporting the water wagon on the open road.
This 800 gallon farm water tank trailer features a polyethylene tank supported by a 6" channel iron frame. Because of its white, translucent color, seeing how much water is being used is easy with this tank. There are two ways to fill the 800 gallon water tank trailer: through the fill tube or by drawing water through the pump.
Express 800 Gallon Water Tank Trailer Specifications
Trailer
DOT-Compliant
Tank
800 Gallon Polyethylene Elliptical Leg Tank
Dimensions
(L x W x H)
165" x 86.5" x 79.5"
(with fenders and fill kit)
Frame
6" Channel Iron
Axles
Tandem Leaf Spring
Tires
16" on EZ Lube Hubs with 8 Lugs
Hitch
2-5/16" Ball or 3" Pintle
Brakes
Double Free Backing Surge
Farm Water Wagon Downloads
Farm Water Wagon Applications
The farm water wagon can transport a large amount of water to various locations, limiting the need to constantly refill the tank. Transporting water wagons around a piece of property to various watering spots, whether for agriculture or livestock watering, is convenient. Other applications include dust suppression, tree spraying, dirt road packing, small-fire suppression, and more!.
Farm Water Wagon Frequently Asked Questions
Farm Water Wagon Questions and Answers
Our farm water wagon dimensions are 165" x 86.5" x 79.5" with fenders and fill kit. The 800 gallon water tank trailers also feature a 2'' anti-siphon fill tube, an 18'' tank lid, a 6'' channel iron frame with rust-resistant powder coat acrylic, and 16'' tires on E-Z lube hugs (with 8 lugs).
Yes, our water trailers are customizable to fit your specific job needs. Water wagons can come without a spray bar if necessary. Other customizable features include tank color, decking material, potability and more. Pricing will change accordingly.