Orchard & Vineyard Portable Watering Tank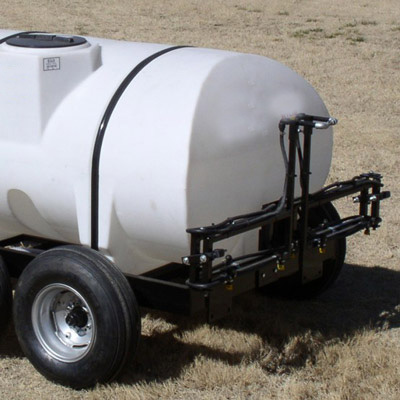 Having a reliable and portable method for watering, fertilizing, and spraying is critical in the care of orchards, groves and wineries. Without maintaining proper moisture levels, fruit may not develop as needed and plant health can deteriorate. Our portable watering tank trailers provide water, fertilizer or insecticides where and when needed, with several different options for spraying.  Boom sprayer arm options are also for sale with the irrigation trailer.
Our irrigation trailer for sale is a versatile portable watering tank that uses a standard hitch for towing and can reach every corner of a winery or fruit tree grove. Dispense water or spray solutions either through the firehose, spray bar, or optional spray boom. Water tank sizes range from 300 to 1,600 gallons, with DOT or off-road (non-DOT) compliant models available. Use the trailer to haul water or simply store it for future use. This portable watering machine can be customized to fit the exact needs of the business.
See the specifications and details about each size of irrigation trailers for sale:
Do you have a grove or winery that needs watering? Questions about our irrigation trailer for sale? Call our team at 1-863-261-8388 or Contact Us.
Irrigation Trailer for Sale
For many mid-sized and smaller vineyards or groves, the cost of installing in-ground irrigation systems is cost prohibitive, and the system maintenance requirements daunting. However, an irrigation trailer can provide a cost-effective and flexible solution for watering, fertilizing, or applying other water-based solutions. Available in a choice of tank sizes ranging from 300 to 1,600 gallon hauling capacities, the vineyard sprayer can be towed to nearly any location needed.
For irrigation purposes, the spray bar provides blanketed coverage. With an adjustable swath of 8' to 25', water broadcasts over a large number area as the trailer is towed. The standard spray bar attaches to the back of the water trailer, but it can be customized with spray booms for reaching crops of different heights as well. Targeted spray application is also convenient, using the provided firehose and adjustable nozzle. To fill the tank, there are two options: the quick-fill port, or use the hose with the engine and pump to draw fill. To use water from alternate sources such as nearby irrigation ponds, a suction fill kit is available.
Landscaping for a Beautiful Winery
Often wineries act not only as grape growing and wine making facilities, but tourist destinations with shops and tasting rooms. To draw in crowds, the grounds of the business should be as beautiful and clean as possible. Adding to it's use on grounds, the irrigation trailer for sale can easily provide the water needed for landscaping and horticulture cultivation.
Landscaping usually requires less water pressure than comes out of our standard fire hose attachment, which can be used to clean off walkways and decks. The hose bibb provides a low-pressure outlet for those times that a gentler stream of water is preferred.
Liquid Fertilizer Trailer for Groves
Almost every grove and winery uses some form of fertilizer on their plants to provide needed minerals and nutrients. The irrigation trailer for sale isn't only for water; it can also be used as a liquid fertilizer trailer. The polyethylene tanks are compatible with a number of water-based liquids used in the fertilization process for fruits and crops.
Just as with irrigation, the spray bar is used to spread fertilizer in a wide swath throughout fields and groves. The 25' fire hose sprays hard-to-reach trees for more targeted fertilizer coverage. Even the hose bibb with the right attachment works for smaller, more delicate areas. Since the liquid fertilizer trailer is portable, the fertilizer mix is moved throughout the operation, ensuring every tree or grapevine receives the same treatment.
Additional Water Storage Options: