Concrete Dust Control & Mistings
Concrete construction water trailers are used for a variety of purposes on the job, whether for dust control, misting concrete as it cures, or serving as a wash down station.  Our water trailers are available in sizes from 500 gallons to 1600 gallons, built to be durable, DOT compliant, and delivered ready to use. 
Having a dust control tank sprayer trailer as an excellent addition to any site for dust control while cutting concrete. With multiple ways to transport and release water, the concrete dust control trailer can meet all concrete and water needs. The tank is available in a range of sizes to accommodate both small and large building sites. For additional trailer sizes see: Water Tank Trailers.
Questions about concrete dust control? Call our team and ask about concrete wetting with a water trailer at 1-863-261-8388 or Contact Us.
Sprayer Trailer Specifications
| | |
| --- | --- |
| Trailer | DOT-Compliant |
| Tank | 1600 Gallon Polyethylene Round Leg Tank |
| Fenders | Diamond Thread |
| Frame | 7" Channel Iron |
| Axles | 8,000 lb. Electric Brake |
| Tires | 16" with 8 Lugs |
| Hitch | 2-5/16" Ball or 3" Pintle |
| Brakes | Electric Brakes with Breakaway System |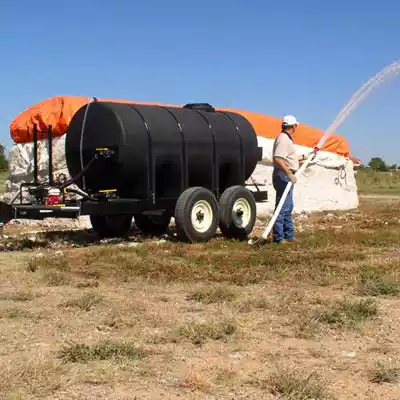 Concrete Curing with Water Trailer
On most construction sites, concrete pipes and slabs are cut with wet or dry style concrete saws.
Wet models typically use a water reservoir that keeps the blade wet during cutting. You can store a large amount of water in a water trailer nearby to easily keep these reservoirs full and working efficiently. See our Dust Suppression Trailers (pdf) for more details.
On the other hand, dry concrete saws blast silica dust everywhere, causing serious breathing hazards. To minimize this hazard, simply use the water tank trailer's fire hose to soak the area. This weights down the concrete and any resulting dust, even as the blade stays dry.
Concrete Saws and How to Cut Concrete
Concrete and water also work together in the curing process after concrete has been poured. Concrete can take almost a month to fully set and keeping it hydrated during that time ensures a strong product with few stresses and cracks.
Misting concrete with the water trailer is easy using the galvanized spray bar. It is adjustable from 8' to 25', so the concrete curing spray can reach a large area at one time. Since concrete needs to be watered at least 5 times per day, the large tank sizes keep the water supply close without needing to refill.
Dust Suppression
Our versatile water tank trailer helps job sites with not only concrete dust control, but also misting concrete for curing purposes. The water sprayer trailer provides two separate ways of distributing water spray, so that you can select the one best for the project at hand. For spraying targeted areas, use the fire hose and nozzle provided. The spray is powered by a Honda engine and 2" pump. For blanket covering of groundspace, the spray bar mounted on the back of the trailer broadcasts a 25 foot spray swath for fast coverage of an area. Fill the water tank trailer using the quickfill port, or use the engine to draw fill.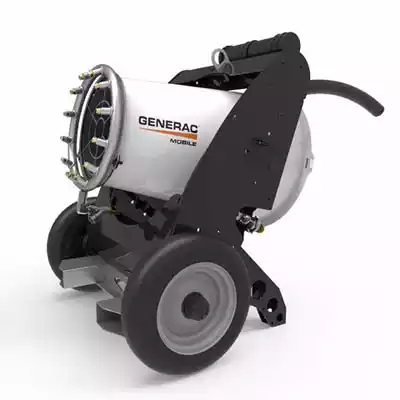 Our dust control system could also be helpful for controlling dust on the jobsite. . If you have access to a water source and electricity, set up is a sinch. If not, use the water trailer to provie water to the dust suppression unit. We also have generator trailers, for a supplemental power supply.
For freeze protection for your water trailer or skid, our Water Trailer Heater Blankets are exactly what you need . When cold weather affects the viscosity of fuel, fluids, and other materials you can lose production time, adding additional costs. Power blankets keep your tanks and smaller corrugated/steel tanks at constant temperature, preventing fluids from freezing in extreme conditions. We customize thermal blankets to meet your specific needs, no matter the tank size or shape. Call us today to find out more!
For more information on our concrete dust control sprayer trailer, contact us or call us at 1-863-261-8388.