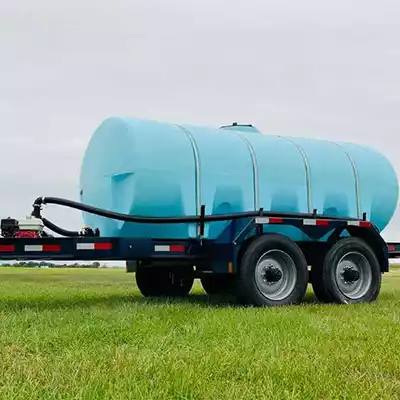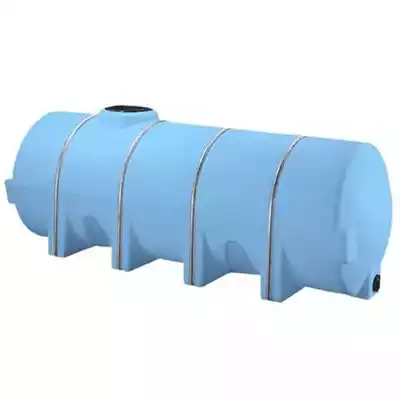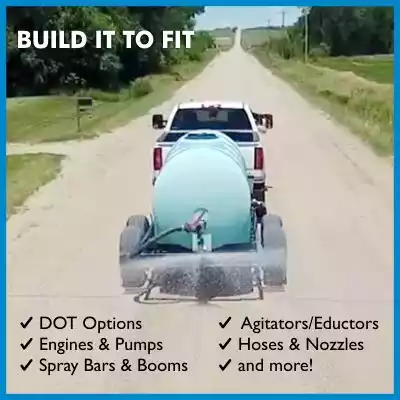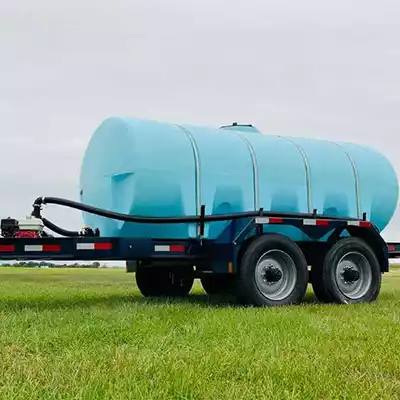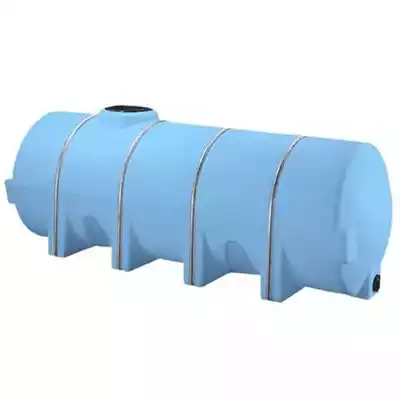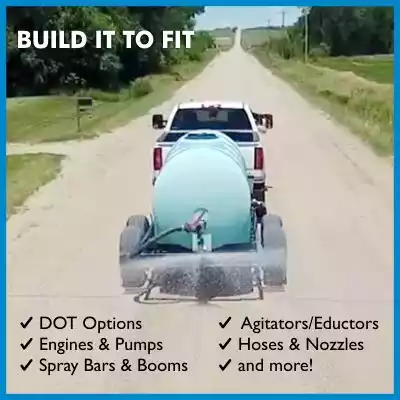 1025 Gallon Water Trailer
1000 Gallon Water Trailer for Sale
1025 gallon water trailer is a durable, heavy duty water trailer made for the toughest water hauling applications. With over 1000 gallons of liquid storage capacity, the water trailer for sale can handle whatever you throw at it. This water trailer has a 6" channel iron frame that holds the 1025 gallon Norwesco Leg Tank. Available with units that will make the water trailer ready for the open road, you can add custom options and accessories onto your water trailer and tank to make it work best for you. Some options we offer are plumbing packages, fenders, lights, high speed radial tires, electric brakes, and more. For more information, see our Nurse Water Tank Trailer video below.
*Inventory levels change continually and vary by location and features required. Call for availability.
Looking for other features? We have an assortment of water trailer vendors with an extensive offering of styles, sizes, and components at exceptional pricing. All capacities listed are for use with water storage. We ship from warehouses across the U.S. and our team will work with you to provide the equipment that fits your needs, delivered within the time frame that you need it. Contact Us for information on other liquid storage options.
1025 Gallon Water Trailer Features
1025 Gallon Norwesco Leg Tank
6" Channel Iron Trailer Frame
Powder Coat Paint Frame
Electric Brakes, Lights, Fender
1025 Gallon Water Trailer Benefits
Warranty Options for Trailer and Tank
Heavy Duty Member Tank Supports
Additional On-Road Options
Pump and Engine Options
1025 Gallon Water Trailer Details
The 1025 gallon water trailer comes with heavy duty features and benefits meant to take your water hauling project to the next level. The Norwesco Leg tank has a 1025 gallon capacity and comes in either an translucent style or a black style that blocks light from entering the tank, which prevents algae growth. The tank, which has a convenient top fill port and bottom dispensing port, sits on a 6" channel iron frame with 3"x6" rectangular tubing cross-member tank supports. The back of the frame is extended 2" to act as a bumper. The other features available on the 1025 gallon water trailer are the extra heavy duty high speed cambered axles, 8,000 lbs. slipper spring suspension, heavy duty jack, adjustable clevis, 15,000 lbs. safety chains, and step platforms. All of these features and components make your water trailer fit your specific job and needs. Options for pump and engines mounted within the tongue for greater protection are also available, as well as fittings, gauges, nozzles, tips, ladders, strainers, hose reels, spray guns, manifolds, regulators and more. Made from heavy duty components that boast durability, the best on the market is this 1025 Water Trailer for sale.
See all of the DOT Nurse Trailer Features we offer.
1025 Gallon Water Trailer Specs
Tank
1025 gallon Norwesco Flat Bottom Leg Tank, top fill port, bottom dispensing port/drain 3 or 5 year nonprorated warranty
Supports
3" x 6" rectangular tubing cross member tank supports
Frame
Extra heavy-duty 6" channel iron frame, powder coated
Extended double-plated tongue
Rear of frame extends 2" beyond tank as a bumper
5-year warranty
Axle
Extra heavy-duty high-speed cambered tandem axles
8,000 lb slipper spring suspension
Tires
11L x 15 8 ply tires
15 x 10 wheels
Jack
Heavy-duty jack that folds up within frame
Extras
15,000 lb safety chains
Adjustable clevis
Step platforms
Optional
Many options for pumps and engines are available that can be mounted within the tongue for greater protection
1025 Gallon Water Trailer Downloads
1025 Gallon Water Trailer Applications
The 1025 gallon water trailer can be used for numerous applications jobs including area watering, landscaping, livestock watering, campus landscaping, roadside construction, dust suppression, fire suppression and many other applications. With special components, you can make sure your 1025 gallon water trailer is road-ready and can transport water on the open highway. With these road-ready components, like fenders, electric brakes, lights, and more, you can be sure to be able to transport water wherever you need it for whatever applications, whether that's potable water for a campsite or non potable water for fire suppression in a rural location.
1025 Gallon Water Trailer FAQs
Road-ready features and components simply means features, accessories, and additional parts of the trailer that make it safe to use on the highway with other cars and trailers. These features include appropriate lights, brakes, fenders, and tires. These make it safe to haul the trailer on public roads and highways.
We have several warranty options for the 1025 water tank and trailer. For the trailer frame we offer a 5 year warranty and for the Norwesco Leg Tank we offer a 3 or 5 year warranty, depending on your needs.