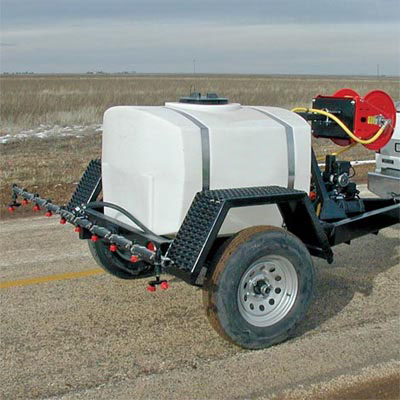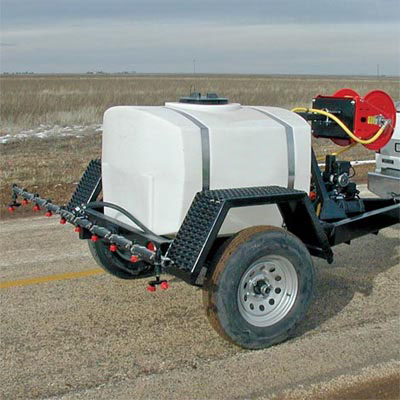 Deicer Sprayer
Liquid Deicer Sprayer
The deicer sprayer is a versatile skid and trailer capable of performing a wide variety of tasks and jobs. From de-icing and anti-icing jobs to herbicide application and remote landscape watering, the deicer tank sprayer is economical and can be used in winter and year-round.
Deicer Sprayer Features
DOT Approved Trailer
Electric brakes
2" Adjustable Ball Hitch
Swivel Hose Reel Mount
Deicer Sprayer Benefits
Heavy Duty Trailer Construction
Durable Tank Materials
Sprayer Used All Year Long
Used on Open Road
Deicer Sprayer Details
The DOT-approved deicer sprayer is equipped with electric brakes for 300 and 500 gallon tank capacities and heavy duty fenders for use on open roadways. With a 2" adjustable ball hitch and DOT approved lights, you can feel secure when taking this deicer sprayer trailer out on the open road. The liquid deicer sprayer is also equipped with a breakaway brake kit and radial tires for the 300 and 500 gallon tank capacity trailers.
A deicer sprayer comes equipped with a variety of accessories and features designed to add to its versatility and reach in terms of the amount of work it can do for specific projects. For ease of access, the liquid deicers slide between the wheel wells of full-size pickups and the swivel hose reel is mounted above the sides of the truck. With these features, the deicer sprayer can easily be converted to an agriculture or herbicide sprayer.
Product Specifications
Capacity
100 - 500 Gallons
Frame
Heavy Duty Formed Steel
Pump and Engine
Ace Pump and Honda Engine
Nozzles and Gun
No-Drip Nozzle Bodies
'Long Throw' Gun
Hose
180° Swivel Reel with PVC Hose
Liquid Deicer Equipment Applications
When the snow melts and the ice is no longer a concern, your liquid deicer equipment doesn't have to go into storage. You can use it year-round as an herbicide applicator or for agriculture spraying and watering. The deicer sprayer makes remote landscape watering easy. With its DOT approved trailer, although state regulations will vary, recessed lights, and heavy-duty fenders, taking this trailer on the open road is simple.
Frequently Asked Questions
Deicer Sprayer Questions and Answers
The deicer sprayer is designed to spray straight down onto the surface. Typically, a deicer sprayer will cover approximately 10 miles with a 500 gallon unit. Please keep in mind that this is a general estimate, as actual coverage is dependent upon the surface conditions and the chemical-to-water mixture ratio. There is a 7-1/2' foot boom attachment that has several nozzles available, either in a fan or straight stream configuration, for a full 11' ft lane coverage. You can also get a walking boom attachment that is perfect for sidewalks.
No calibration of the deicer sprayer is required. However, the tank sprayer will need to be cleaned periodically to ensure that calcium deposits do not form, which could reduce the effectiveness of the sprayer.