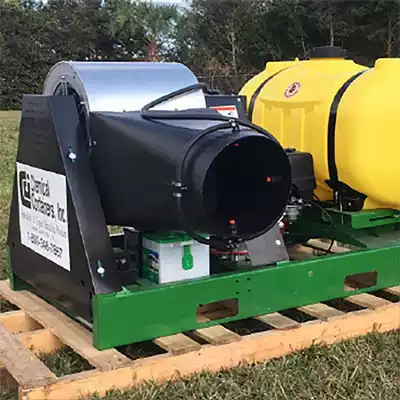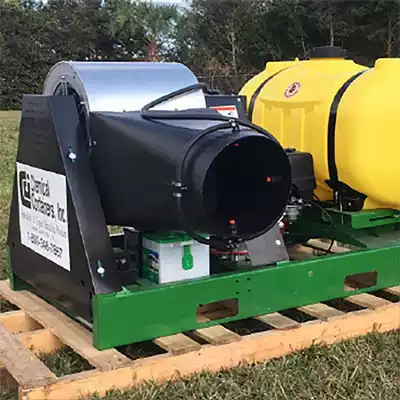 Mist Blowers
Mist Blower Sprayer for Sale
Mist blowers are liquid spraying products made to meet your wide-spread disinfecting and spraying needs. Mist blowers spray a fine mist for a variety of applications, from spraying crops to disinfecting heavily used items like shopping carts or playground equipment. Although the mist blower machine comes with standard features, it also can be customized to meet your needs.
Mist Blowers Features
Horizontal Spray Span of 30-40 Feet
11 HP Honda Engine
60 Gallon Poly Tank
Mist Blowers Benefits
Customizable Design
Fine Mist Particles for Light Spraying
Durable, Heavy Duty Components
Mist Blower Machine Details
Mist blowers come standard with several defining features. The horizontal throw of a mist blower machine is 30 to 40 feet, designed for use as a sanitizer for large objects, spraying rows of crops, plant nurseries, and sanitizing outsides of buildings. With an 11 HP electric start Honda engine and a 4 QT gas tank, you'll find function and durability within the mist blower machine. The 60 gallon poly tank can hold a variety of chemicals and disinfectants for spraying purposes and applications. The main frame is heavy-duty powder coat painted and the pre-punched frame is forklift compatible. Other features of the mist blowing machine tank sprayer are a 4-nozzle cannon poly volute, glycerin pressure gauge, 6 roller cast iron pump, line strainer, and pressure regulator.
Mist Blower Sprayer Specifications
Horizontal Throw
30-40 feet
Engine
11 HP Electric Start Honda
4 QT Gas Tank
Tank
60 Gallon Poly Tank
Fan
15" Huck Rivited with Safety Rings and Electric Rollover
Frame
Pre-Punched Frame Fork Lift Compatible
Pump
6 Roller Cast Iron
Glycerin Pressure Gauge
4-Nozzle Cannon Poly Volute
Other
Pressure Regulator
Line Strainer

Mist Blowers Uses and Applications
Mist blowers help in a variety of applications and can be customized to fit your needs. Mist blowing machines can spray rows of crops or plants at a nursery. This will cut down on the amount of time it takes you to water these plants. A chemical blower can mist rows of crops and plants with pesticides or fertilizers. The the mist blower can also sanitize high contact surfaces or items that are often cumbersome to clean. Mist blowers can disinfect shopping carts, golf carts, playground equipment, large toys, or recreational items like sports balls and sports equipment. Whatever your disinfection needs, you'll find a great amount of customization in this mist blower sprayer for sale.
Mist Blowers Frequently Asked Questions
Yes, the mist blower machine can disinfect high contact surfaces like a playground. Because they often have a lot of high contact areas, it's a good idea to keep playgrounds as sanitized as possible. Playgrounds can be pressure washed to remove crusted on dirt and sand and then regularly disinfected with a chemical blower. The chemical blower has a horizontal throw of 30-40 feet. That means you'll be cleaning and disinfecting large items with mist blowing more quickly to keep germs and contaminants at a minimum.
The mist blower price will vary depending on the customizations that come with your model. Mist blower sprayers for sale come with a range of useful features and benefits. Contact our sales team today to get your mist blower price. Call 1-863-261-8388 or submit a form.