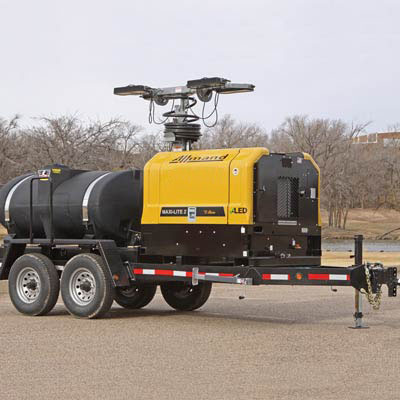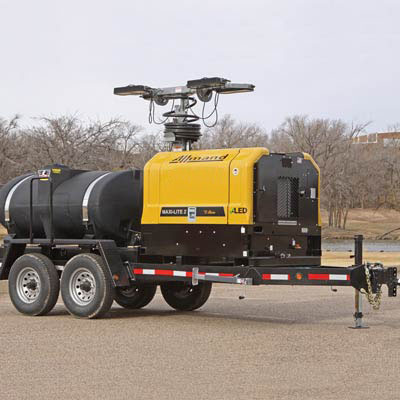 Combo Trailer 3-in-1 Worksite Solution
Water, Power & Light - Work Day or Night
This Combo Trailer does the work of a Water Trailer, Light Tower Trailer, and a Power Trailer, without having to haul all three to your worksite. Compact (19' L x 7' W) and DOT-compliant, it provides the resources you need, even in tight spaces. This 3-in-1 workhorse brings all the light, water & mobile power you need for the project, even in low-light or remote conditions.
Combo Trailer Features
500-Gallon algae-resistant water tank
5 GPM, 45 PSI water pump & pressure tank
240-gallon diesel tank / 15 kW Allmand generator
26'8" Light Tower with 4 320-watt LED fixtures
Combo Trailer Benefits
Potable water rating helps keep your project -- and crew -- hydrated
Pressure tank reduces cycling to maintain steady water flow extend pump life
3-in-1 design saves time, workspace and money
Mobile Light Tower expands shift capabilities
Combo Trailer Details
Why get just a Water Trailer when you also can have a Mobile Light Tower and Power Trailer, all in one fully-assembled, road-ready unit? This efficient, 3-in-1 Combo Trailer can bring up to 500 gallons of water to your worksite, with all water system components rated potable. The optional Freeze Protection Package extends use to multiple seasons in colder climates.
The Combo Trailer helps you get the job done on time and on-budget, and on any worksite accessible by truck.
The 240-gallon diesel reservoir, when filled, powers the 22.3 hp Caterpillar engine inside the 15kW Allmand generator. The resulting 300+ hours of electricity and light for your project site mean less down time; more progress. A variety of electrical outlets – ranging from 20 AMP /120V to 50 AMP / 240 V – give you and your crew the mobile power to get the job done right in as little time as possible.
The 26'8" Mobile Light Tower is hydraulically actuated, making for smooth extension and retraction of its six sections. A drop-leg jack and outriggers stabilize the tower. Equivalent to having a separate light tower trailer on site, the well-designed mobile light tower has handholds and a step with slip-resistant treads. These safety features allow for easy access to the light tower mast and its four 320-watt LED fixtures.
Combo Trailer Specifications
| | |
| --- | --- |
| Weight | 5,240 lbs (Empty) / 11,500 (Full) |
| GVWR (Gross Vehicle Weight Rating) | 14,000 lbs |
| Tandem Slipper Spring Axles | 7,000 lbs axles / 8,000 lbs springs |
| Tires | 235/80R16 |
| Dimensions | 228" L x 83" W |
| Trailer Frame | 7" Channel Iron with Recessed Lights |
| Surge Brakes Actuator | 20,000 lb / 2 5/16" ball or 3" ring |
| Water Tank | 500 Gal (black to protect against algae growth) |
| Water System | Flojet 5 gpm, 110v, 45 psi |
| Freeze Protection | Freeze Protection Package (optional) |
| Pressure Tank | 2-gallon tank for constant pressure |
| Diesel Fuel Tank | 240 gallons |
| Lighting and Tower | 4 x 320-watt LED fixtures; 320" six-section, hydraulically-actuated vertical tower |
| Power System: | Allmand Maxi-Lite II 15kW V-Series |
| Engine: | Caterpillar C1.5 Turbo T4F, liquid-cooled diesel 22.3 hp |
Combo Trailer Applications
The Combo Trailer is ideal for mining camps, oil or gas drilling sites, pipeline maintenance, overnight construction, disaster recovery, or any other project where you may have limited space but need maximum capabilities. Perfect for dust suppression, concrete cutting and finishing, pressure washing and a myriad of other uses, this 3-in-one, road-legal water trailer marvel can help your crew perform a peak efficiency. You can even use it for camps, RVs or mobile offices.
Why waste time towing three trailers and then figuring out where to position them, when one combo trailer will do?
This durable combination of a Water Trailer, Power Trailer and Mobile Light Tower Trailer is the 3-in-1 worksite solution to your project needs.
Don't need to pressure-washing, mobile power or lighting capabilities? See our Express 500 Gallon Water Trailer.
Frequently Asked Questions
Combo Trailer Frequently Asked Questions and Answers