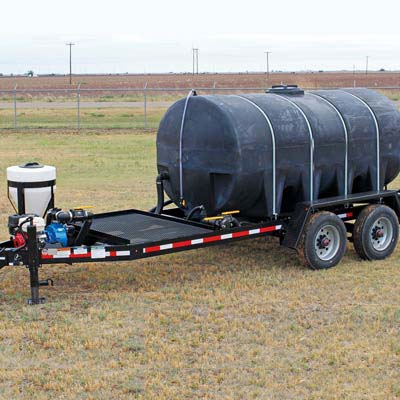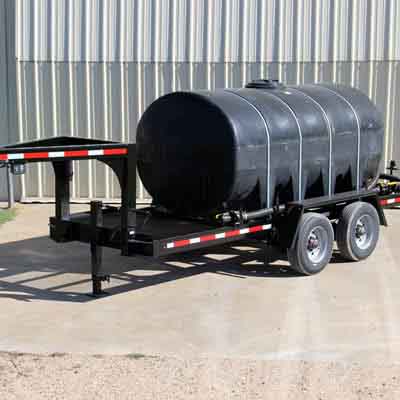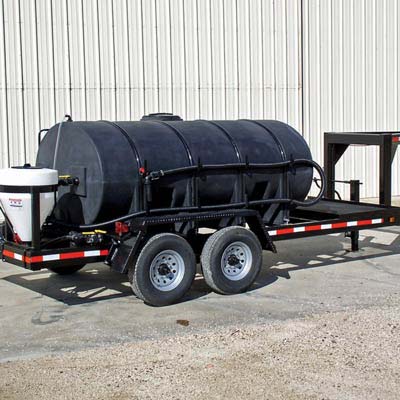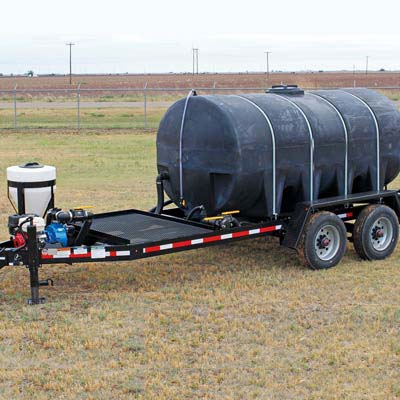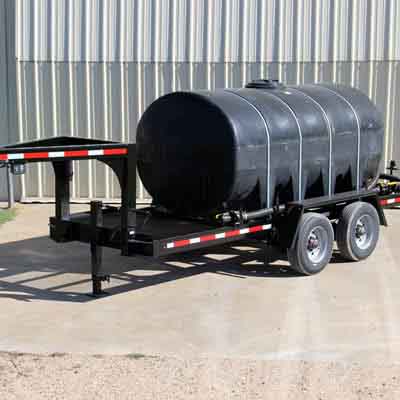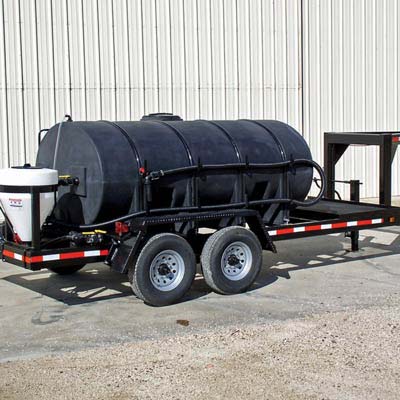 Nurse Trailer
2000 Gallon Nurse Trailer
The 2000 gallon nurse trailer is built for big jobs in industry and agriculture. The 2000 gallon nurse trailer is available in DOT and non-DOT models with either a gooseneck or tag hitch. Options for the nurse tank trailer for sale include a mix-n-fill tank, CDS-John Blue wet seal centrifugal pump kit, quick fill and Sparger valve, and a sight gauge for black tanks.
2000 Gallon Nurse Trailer Features
Chemical tote platform
Partial baffle molded into the tank
Intelli-Hitch on Tab Hitch trailer model
2000 Gallon Nurse Trailer Benefits
Highway (DOT Model) and Off-road use
Baffle tank controls liquid surge during transport
Transport water, fertilizer, insecticides, herbicides
2000 Gallon Nurse Trailer Details
Built for big jobs, use the 2000 gallon nurse trailer to transport non-petroleum liquids or for large spraying operations. The 2000 gallon nurse trailer actually features a 2,010-gallon elliptical full drain tank and chemical tote platform, all seated securely on the sturdy 7" channel iron frame with tandem 10,000 lb axles. The tag hitch trailer incudes an Intelli-Hitch microprocessor, eliminating the need for a brake controller beneath the dashboard.
The 2000 gallon nurse trailer is available in a DOT model for use on public roadways. In addition to being fully DOT compliant, this model also includes heavy duty walkway fenders for easy access to the tank lid. If the Nurse Trailer will be used only on site with no need for the DOT required components, consider the on-farm (non-DOT) model that utilizes the same sturdy trailer base. Both models include the chemical tote platform. The tank is full-draining and can be filled through the tank lid or the quick-fill fitting.
Additional options enhance speed and ease of use, such as the 30-gallon mix-n-fill tank. The CDS-John Blue wet seal centrifugal pump kit is another popular option, coupled with a Honda engine and 3" plumbing to facilitate quicker flow from the trailer to the sprayer.
Nurse Trailer Specifications
| | |
| --- | --- |
| Industrial Trailer | 7" Channel Iron Frame, 235/75r/17.5 Tires; Dot Model Includes Heavy Duty Walkway Fenders And Lights; Dot Approved For Non-Flammable & Non-Hazardous Materials Only |
| Axles and Brakes | Tandem Axles With Springs, Electric Brakes, Breakaway Kit |
| Tires | 235/75R/17.5 Tires |
| Water Tank | 2,010 Gallon Full Drain Elliptical Tank |
| Pump and Engine | CDS/John Blue 3" Centrifugal Pump Powered By A 13.5 Hp Honda Engine |
| Options | Surge Buster Inserts, 30 Gallon Mix-N-Fill Tank, Sparger Valves |
| Optional Trailer Types | Tag (Dimensions) 230" L x 102" W; Tag Platform (Dimensions) 270" L x 102" W; Gooseneck (Dimensions) 324" L x 102" W |
Nurse Trailer Applications
Nurse trailers are used in agricultural and industrial applications that use big sprayers and need a larger tank to supply the volume of liquid needed. They are also used for transporting large volumes of water or other non-flammable liquids. The nurse trailer is approved for use with water, fertilizers, insecticides, herbicides, and other non-petroleum-based fluids.
Nurse Trailer Frequently Asked Questions
Nurse Trailer Questions and Answers
The 2000 gallon nurse trailer is available in two models. One is approved by the manufacturer as DOT compliant and can be used on public roadways. The other model uses the same trailer frame but eliminates unnecessary DOT requirements for those who would not use the trailer off grounds at their facility.
The nurse trailer can be used for drinking water transportation if you request a potable water tank when placing your order. Otherwise, the tank provided is not rated for drinking water use. Please be certain to explain how you wish to use the nurse trailer when you chat or email with our service assistant.