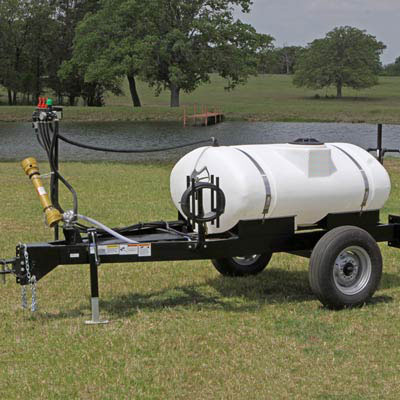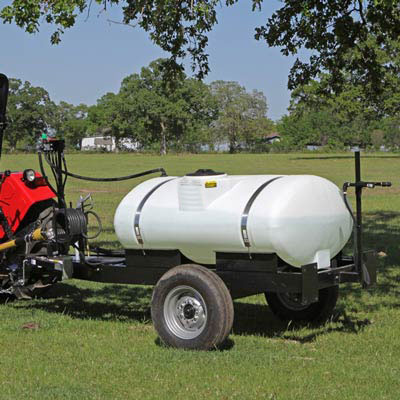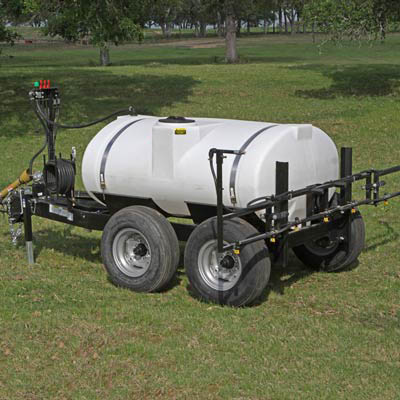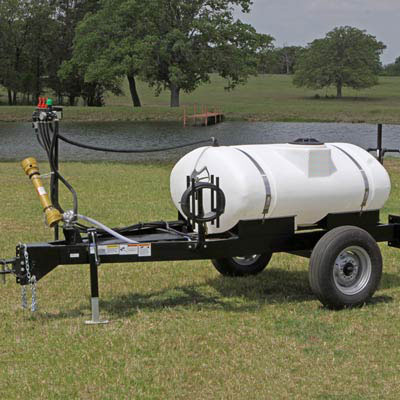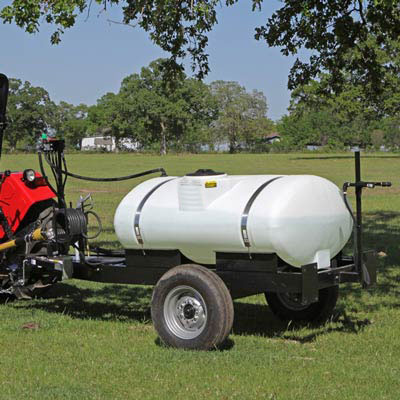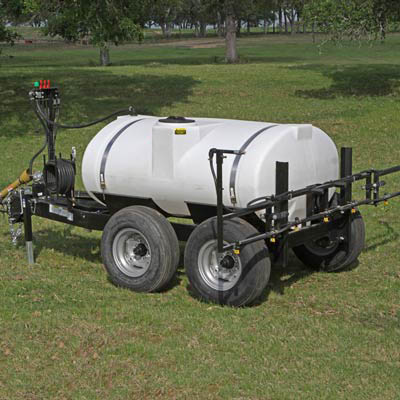 Pasture Sprayer
Pasture Sprayers | 300 - 500 Gallon
Pasture sprayers are known as one of the best pasture spray rigs for ruggedness and versatility. Pasture sprayers are available in 300 or 500 gallon tank sprayer capacities with single or tandem axles. Use the pasture sprayer to apply herbicide, fertilizer, insecticide or other water-based solutions easily and evenly with the boom and nozzles.
Pasture Sprayer Features
Low clearance, durable design
Manual or electric controls
PTO, hydraulic, or gas engine driven pumps
Pasture Sprayer Benefits
Efficient and controlled application of ag chemicals
Booms fold for easier transportation
Boom buster nozzles extend reach up to 42'
Pasture Sprayers Details
The pasture sprayer will quickly become your "go to" spray trailer. It is highly efficient when used in applying water-based ag chemicals and fertilizer. Both the 500 and the 300 gallon pasture sprayers are available with either a round or elliptical tank. Elliptical leg tanks provide the added benefit of better stability due to the lower center of gravity, a lower profile for better tractor visibility, and easier servicing of the pasture spray rig. Ag sprayer trailers are also avialable in 800 to 1600 gallon tank sizes.
Simply the best pasture sprayer for adaptability, our pasture sprayer accommodates a wide offering of compatible spraying options. Use the Boom Buster™ nozzles for spraying pastures with brush. For use on improved pasture or spraying small grains, the pasture sprayer rig can be fitted with the 8420, the 8220, VSB, or extender boom. The extender boom utilizes a combination of conventional boom coupled with broadcast/Boom Buster nozzles to extend the spray's reach up to 42'. The extender boom also folds within the trailer, making it much easier to transport. Both the 500 and 300 gallon pasture sprayer are delivered equipped with a 50' fire hose and trigger gun for use as a livestock sprayer or for rinsing equipment.
Pasture Sprayer Trailer Specifications
| | |
| --- | --- |
| Sprayer Tank | 300 gallon pasture sprayer or with 500 gallon tank, available with round or elliptical tanks |
| Axles | Single or Tandem Axles |
| Axle Type Options | Rigid, Torsion, or Walking Beam Axles |
| Pump Options | PTO, Hydraulic, Gas Engine Driven Pumps, Gear Pump, Roller Pump, Diaphragm Pump, Centrifugal Pump |
| Controls | Hypro Manual Control, Electric Control, Ground Drive |
| Nozzles | Boom Buster ™ Nozzles |
| Boom Options | Extender, VSB, 8420, 8220 or Flat Fold Boom |
| Other Features | 50' Fire Hose with Trigger Gun |
Pasture Sprayer Trailer Applications
Use the 300 gallon pasture sprayer or the larger 500 gallon pasture sprayer for maximizing efficiency in applying herbicides, fertilizers, insecticides, and other water-based chemical solutions to pastureland. It can also be used as a small acreage sprayer, for spraying orchards, trees, and livestock, or even to rinse equipment.
Pasture Sprayer Frequently Asked Question
Pasture Sprayers Questions and Answers
Pasture sprayers are very versatile and can accommodate any number of booms, giving you the flexibility to pick the right one to fit the application. The spray booms include: the extender, VSB, "8420," "8220," and the flat fold boom.
Either tank style will provide reliable performance needed in the field. However, elliptical tanks are often preferred for several reasons. They are more stable and have a lower center of gravity. A round tank, fully filled, can be top-heavy and make transporting the tank sprayer challenging on rough terrain. Elliptical tanks have a lower profile, making them easier to see over. This translates to greater safety for your tractor operator in the field. Because of the lower height, the elliptical tank is easier to service and clean
The high clearance crop sprayer might be a better alternative for your farm spraying application. It comes in two models, one of which is not only a high clearance model, but also built for heavy-duty use.