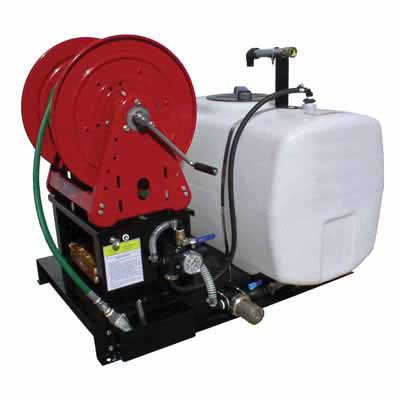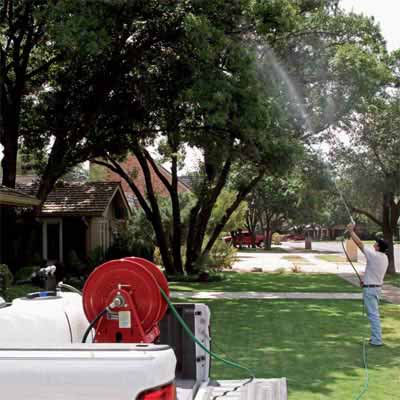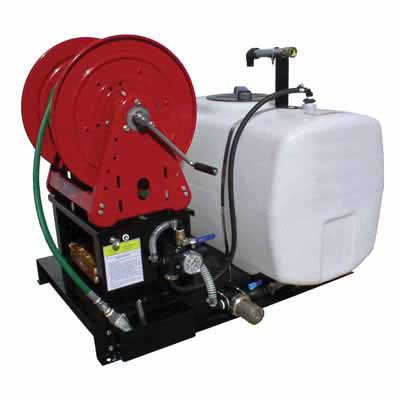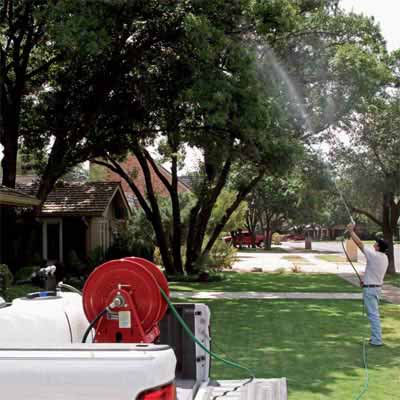 Pest Control Sprayer
50 Gallon Pest Control Power Sprayer
The 50 gallon pest control sprayer is a commercial quality sprayer designed for small to mid-sized pest control applications. Designed to mount in a van or truck bed, this tank sprayer is an economical option for smaller commercial spraying jobs such as treating yards and spraying trees or foundations. Powerful and durable, the 50 gallon pest control tank sprayer will provide years of reliable service.
Pest Control Sprayer Features
Anti-siphon fill, 50 gallon tank
12 volt PumpTec pump
200' of 3/8" hose and hose reel
Pest Control Sprayer Benefits
Sprayer output is 3 gpm at 150 psi
Mounts easily to a truck bed or van
Safer than a gasoline powered pump
Pest Control Power Sprayer Details
Designed for power and durability, the 50-gallon pest control power sprayer fits easily into even small pickups or vans. Maximize the use of your vehicle fleet by equipping them for use in the field. This commercial quality tank sprayer is equipped with a 12 volt PumpTec piston pump known for its reliability and produces an output of 3 gpm at 150 psi.
The HD Hudson stainless steel spray gun provides adjustable spray functionality, and a straight stream or Green Garde™ lawn nozzle is also included. Mounting holes in the unit make it simple to secure to the truck bed. It can be powered by connecting to the vehicles electrical system or to a deep cycle battery. The pest control sprayer also includes an anti-siphon fill kit that prevents chemicals from the tank sprayer being drawn into the water supply. The pest control pump sprayer price can vary based on any additional features you request.
Pest Control Sprayer Specifications
Pump
Pumptec, 12 Volt, 30 AMP, 350U
Output
3 GPM @ 150 PSI
Tank
50 Gallon
Hose Reel
Reelcraft
Hand Crank
300' Capacity
Hose
3/8" X 200'
Dimensions
40" L X 40" W X 35" H
Empty Weight
190 lbs.
Additional Features
Anti-Siphon Fill
HD Hudson Stainless Steel Spray Gun
Straight Stream Or Green Garde ™ Laywn Nozzle
Pest Control Sprayer Applications
Compact and suited for small to mid-sized spraying jobs, use the commercial grade pest control sprayer for treating yards, trees, foundations, and building pads.
Frequently Asked Questions
Pest Control Power Sprayer Frequently Asked Question
The pest control power sprayer has four built in holes that make it easy to mount to your vehicle. Instructions are included in the owner's manual for connecting the unit to an electrical power supply. Keep in mind that the sprayer weighs 190lbs, so you will need some assistance lifting it into the vehicle.
This pest control sprayer is designed to be mounted in a truck bed or van, adding in-the-field functionality for your vehicle fleet. Gasoline powered pumps can be a health concern in this type of application, as they produce carbon dioxide and nitrous oxide fumes that impact motor skills and can be quite dangerous. The pest control sprayer is powered by electricity, however. This not only eliminates those harmful fumes, but also saves space and expense, as you don't need to haul gasoline tanks.