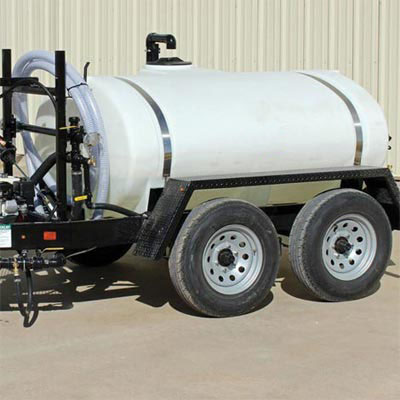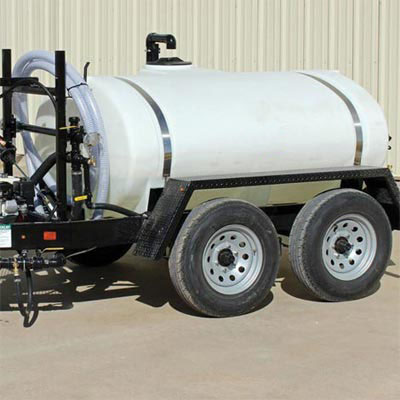 Pressure Washer Water Tank Trailer
Wylie Pressure Washer Trailer for Sale
The pressure washer water tank trailer from Wylie has been designed around the need for multi-function equipment. The dual purpose water trailer has a spray bar for dust suppression at a construction site, along a dirt gravel road, or at an arena.
Pressure Washer Features
Triplex pump 3GPM@2700 PSI
5 HP Honda motor
Hand crank reel on swivel mount with 25' hose
Trigger gun with 4 nozzles
Downstream low pressure soap applicator
Dust Control Features
2" transfer pump and 4 HP Honda motor
Dual nozzle spray bar with a 25' swath
20' x 2" suction hose
25' x 1-1/2" firehose
Pressure Washer Water Tank Trailer Details
The pressure washer water tank acts as a mobile pressure washer unit with special built-in tools such as a trigger gun and applicator for washing equipment, buildings, parking lots, or vehicle fleets.
The self-contained pressure washer water tank trailer comes standard with a high-strength polyethylene tank and a tandem axle steel trailer. Our system uses one 500 gallon polyethylene water tank for two separate functions. When you are using the cold water pressure washer trailer side you have a triplex pump and a 5hp Honda motor giving you 3 GPM at 2700 PSI with the trigger gun with 4 nozzles. If you need it to be a dust control trailer then you have a 2" transfer pump, 4hp Honda Motor supplying the dual nozzle spray bar capable of a 25 foot swath, a 20 foot x 2" Suction Hose and a 25 foot by 1-1/2" Firehose. The best of both worlds built into one dual purpose trailer.
Wylie Pressure Washer Water Tank Trailer Specifications
Trailer
6" Channel Iron with LED Lights
Tank
500 Gallon Polyethylene Elliptical Leg Tank
Dimensions
(L x W x H)
174" x 78" x 65"
Axles
Tandem Slipper Spring
Gross Vehicle Weight Rating (GVWR)
6,000 lb
Hitch
Height Adjustable, 2"
Wheels
15 x 6, 6 hole,
5 1/2" bolt circle
Dual Purpose Trailer for Pressure Washing and Dust Control
The dual purpose trailer is designed to be both a pressure washer trailer and dust control trailer all in one user-friendly and convenient unit. The custom pressure washer trailer is DOT-rated and has a low center of gravity for easier transportation between job sites. Combined with the versatile 500 gallon poly tank, the dual purpose trailer is a double threat you should have in your arsenal. The cold water pressure washer trailer combined with a dust control trailer makes it a highly capable and adaptable water spraying equipment for your site.
Don't need the pressure washing capabilities? See our Wylie Express 500 gallon water trailer.
Frequently Asked Questions
Pressure Washer Water Tank Trailer Questions and Answers
Our pressure washer water tank trailer has both a spray bar for dust control and a triplex pump with 2700 PSI and pressure washing attachments. It's the perfect blend for both applications in one trailer.
The trailer comes with a 2" x 20' suction hose, a 1-1/2" x 25' fire hose and nozzle, and a dual nozzle spray bar. There are many options that can be added such as a ½" hose for washing or watering and longer fire hoses.