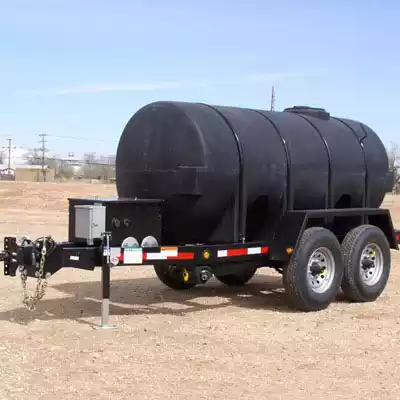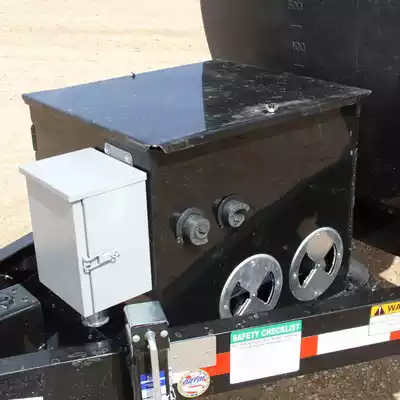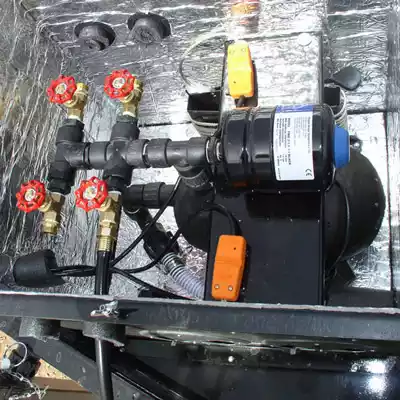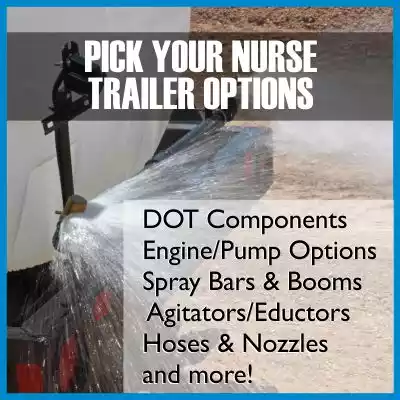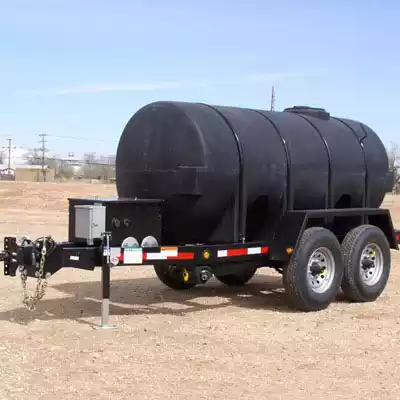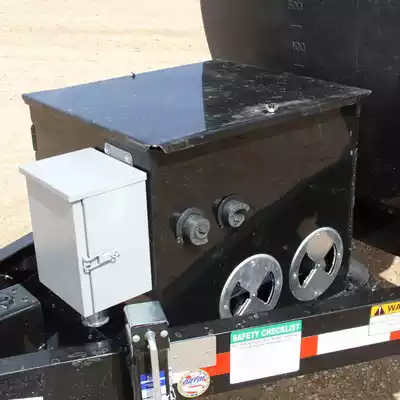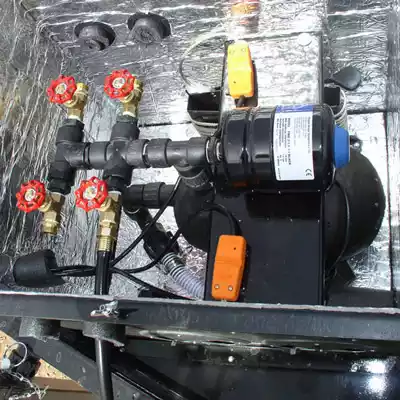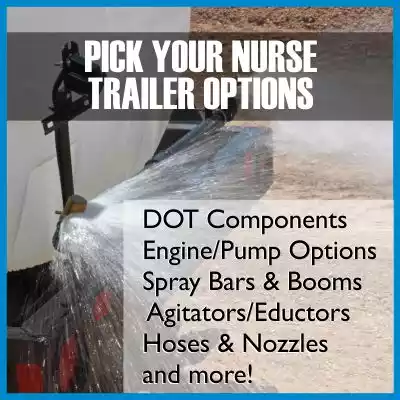 Potable Water Transport Trailer
Portable Water Hauling Trailer
The 1025 gallon water transport trailer is designed for versatility and functionality. This portable water tank is algae resistant and meets NSF requirements for hauling potable drinking water. An insulated thermostat-controlled freeze protection system is also included, allowing a longer season of use each year.
Water Transport Trailer Features
1025 gallon algae resistant potable water tank
Insulated thermostat controlled freeze protection
Dry run protection and automatic shut off
Water Transport Trailer Benefits
22 gpm pump provides flow of water to 4 outlets
Bottom-load valves for filling or draining the tank
Electronic display for monitoring the pump status
Looking for other features? We have an assortment of water trailer vendors with an extensive offering of styles, sizes, and components at exceptional pricing. All capacities listed are for use with water storage. We ship from warehouses across the U.S. and our team will work with you to provide the equipment that fits your needs, delivered within the time frame that you need it. Contact Us for information on other liquid storage options.
Portable Water Tanks Trailer Details
Specifically designed for use in hauling and storing drinking water, this portable water tank trailer is delivered fully assembled and ready to get to work for you. The sturdy construction and durable components provide a long field use life. The water hauling trailer has a ¾ hp insulated pump with thermostat-controlled freeze protection. The pump provides 22 gpm flow and a max PSI of 50. The easy fill top port makes for quick filling.
Additional filling options are available by using the 3-way bottom-load valves. Distribution of the water can be facilitated through use of any or all of the four outlets, with a pressurized and even flow from each outlet. The walkway fenders on the water hauling trailer offer easy access to the fill port for trailer operators. The water transport trailer is built to meet DOT requirements for safe use on public roadways, including surge brakes. See our 525 Gallon DOT Water Trailer.
1025 Gallon Express Water Distribution Trailer Specifications
| | |
| --- | --- |
| Trailer | Dot-Compliant For Use On Highways And Public Roadways. Surge Brakes, Lights, Emergency Break-Away Cable, Heavy Duty Walkway Fenders, Tandem Spring Axles, DOT Compliant Trailer With 6" Channel Iron Frame, 2 5/16" Ball Hitch, Height Adjustable Hitch, ST225/90D16 Tires, GVWR: 15,000 Lb, Empty Weight: 2,300 Lb., 196"L X 80"W X 82" H |
| Tank | 1025 Gallons, Potable Water Polyethylene Tank, Black (For Algae Resistance) |
| Pump | On Demand, ¾ Hp, 115 Volt, 22 gpm, 50 PSI Max, Insulated Thermostat Controlled Freeze Protection, Pump Can Be Vented For Use In Hot Weather, Dry Run Automatic Shut Off, Power Supply Routed Through GFCI Receptacle |
| Ports | Quick Fill Top Port, 4 Outlets, Bottom-Load 3-Way Valve Wrapped With Freeze Protection Insulation And Heat Cord |
| Other Features | Owners Manual Is Stored In The Sleeve Mounted On The Trailer Tongue, Electronic Display On Pump |
| Options | Anti Siphon Fill Kit |
Water Transport Trailer Applications
Water transport trailers are designed for hauling potable drinking water. They are often used to fill cisterns and pools, as well as to provide water to mobile offices, RVs, special events, and construction sites. With the insulated pump and thermostat-controlled freeze protection system, the portable water tank trailer can be used longer into the fall season in colder climates. The pump can also be ventilated to avoid overheating when using in hot temperatures.
For freeze protection for your water trailer or skid, our Water Trailer Heater Blankets are exactly what you need . When cold weather affects the viscosity of fuel, fluids, and other materials you can lose production time, adding additional costs. Power blankets keep your tanks and smaller corrugated/steel tanks at constant temperature, preventing fluids from freezing in extreme conditions. We customize thermal blankets to meet your specific needs, no matter the tank size or shape. Call us today to find out more!
Sprayer Trailer Frequently Asked Questions
Keyword Questions and Answers
Yes, this trailer is DOT compliant for highway use with surge brakes, lights, breakaway chain, and other safety features included in the package. Please see the trailer specifications above for a complete list.
The black tank on the portable water tank trailer makes it algae resistant. The color of the tank helps create a climate inside the tank itself that is less favorable for algae to grow.
Yes, this portable water transport trailer was designed specifically for hauling drinking water. The water tank is constructed from NSF approved resins. The related components are also safe to use with potable drinking water.