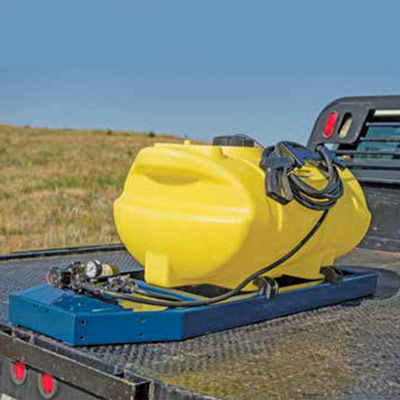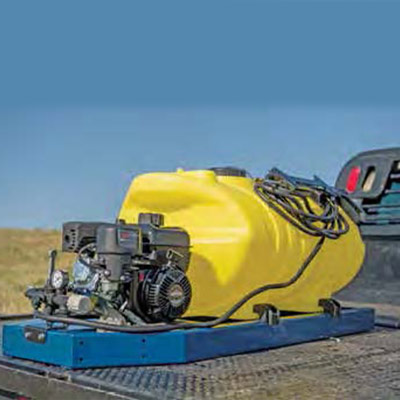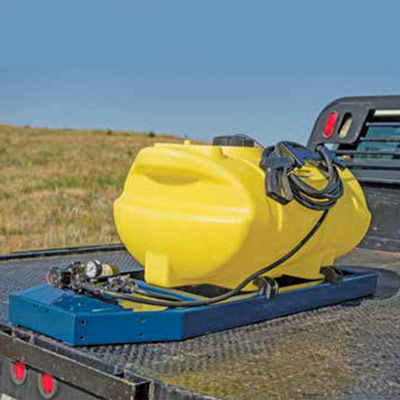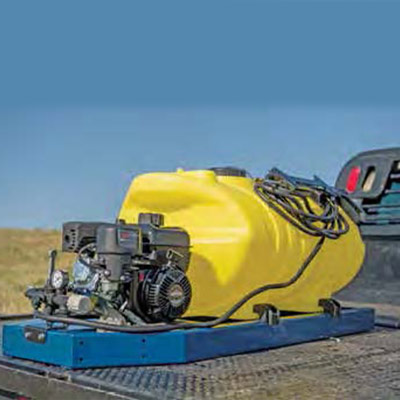 60 Gallon Sprayer
Skid Sprayer for Sale
60 Gallon Sprayer is a lawn and garden tank sprayer that can be easily and conveniently mounted in the back of ATVs, UTVs, utility trailers, and other vehicles. This skid sprayer has a variety of options accessories that is compatible with, depending on the type of application you are looking to accomplish. Our skid sprayers are made in the USA and ship from various locations across the nation, saving you money on freight and shipping.
*Inventory levels change continually and vary by location and features required. Call for availability.
Looking for other features? We have an assortment of water trailer vendors with an extensive offering of styles, sizes, and components at exceptional pricing. All capacities listed are for use with water storage. We ship from warehouses across the U.S. and our team will work with you to provide the equipment that fits your needs, delivered within the time frame that you need it. Contact Us for information on other liquid storage options.
60 Gallon Sprayer Features
12 Volt Shurflo Pump with 4.0 GPM
60 Gallon Polyethylene Pump
Boom and Nozzle Options
Hose and Handgun Sprayer Holder
60 Gallon Sprayer Benefits
USA Made, Ships From Various Locations Nationwide
Numerous Accessories and Options Available
Used for Multiple Applications
60 Gallon Skid Mounted Sprayer Details
Our 60 gallon sprayer tank comes equipped with a 12 volt (relief valve) diaphragm pump and Shurflo 4.0 GPM (Max) Pump (0-60 PSI) to give you reliable pressure and water power when spraying and watering. The adjustable pressure and pressure gauge allows you to control how much water you are using. The 60 gallon polyethylene tank is compatible with a variety of accessories and add-ons including the hose and handgun holder, deluxe handgun sprayer and adjustable tip with 25' hose (60" Long x 24" Wide). We also carry a variety of boom sprayers and brackets that are sold separately from the skid sprayers.
60 Gallon Sprayer Specs
Product Number
FSSS-60-12V
Tank
60 Gallon Polyethylene Tank
Pump
12 Volt (Relief Valve) Diaphragm Pump
Shurflo 4.0 GPM (Max) Pump (5151066)
0-60 PSI
Adjustable Pressure
Other
Hose & Handgun Holder
Deluxe Handgun with Adjustable Tip and 25' Hose
60" Long x 24" Wide
Adjustable Pressure
60 Gallon Sprayer Tank Downloads
60 Gallon Skid Mounted Sprayer Applications
Our skid mounted sprayer units accommodate variety of needs and applications. Use the 60 gallon skid sprayer for lawn and garden spraying, grass watering, tree watering, pest control, insect control, fence spraying and more. With the accessories and add-ons that we have you can accomplish even more applications. The handgun sprayer is perfect for targeted spraying for pesticides and insecticides. With our many boom options, you can cover large areas of land with watering and spraying.
60 Gallon Sprayer Tank Frequently Asked Questions
We have a variety of accessories and add-ons that are compatible with the skid sprayers. We carry 12volt on/off wireless remote controls, the Multi-Lid for accurately measuring chemicals, replacement handgun sprayers, drain cap and tank lids, replacement pressure gauges, ATV/UTV sprayer plumbing manifolds. We also carry boom sprayers and boomless sprayers that must be ordered separately.
We carry a variety of capacity sizes of skid sprayers. Our skid sprayers range in size from 60 gallons to 500 gallons. These skid sprayers are best used for a variety if applications, and the larger capacity size skid sprayers are great for larger projects and applications.