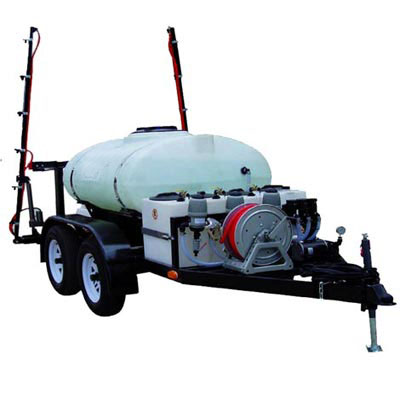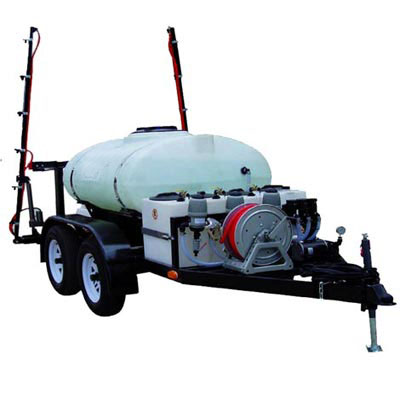 300 Gallon Chemical Trailers
DOT Boom Trailer
The versatile 300 gallon chemical trailers are DOT compliant for use on public roadways to bring water or chemicals from jobsite to jobsite across large distances. While this DOT trailer can haul potable and non potable water, it is also a boom trailer equipped to spray and store pesticides, chemically treated water, and other types of chemicals for use on job sites, farms, and other locations.
300 Gallon Chemical Trailers Features
300-gallon polyethylene tank
Front-mounted Hannay hose reel
Rear-mounted spray boom
Industrial-grade painted trailer
300 Gallon Chemical Trailers Benefits
DOT compliant for public road use
Chemical and water storage
Durable trailer frame
Versatile in many applications
Chemical Trailer Details
The 300 gallon chemical trailer is made from an all-welded painted steel trailer that has a channel iron frame with cope joints. The DOT trailer has 5 bolt hubs with grease-able cone bearings and street tires. The tandem axles have EZ lube hubs and come equipped with a DOT trailer light package.
Made from polyethylene, the 300 gallon chemical trailer is an applicator tank that has indicators for gallonage molded into it and a 8" lid for easy access and filling. The DOT trailer comes equipped a 12-volt diaphragm pump with an adjustable pressure regulator of 7.0 GPM Max: 100 PSI Max.
300 Gallon Chemical Trailers Specifications
| | |
| --- | --- |
| Trailer | DOT Trailer Light Package |
| Tank | 300 Gallon Polyethylene |
| Frame | Channel Iron Frame with Cope Joints |
| Axles | Tandem Torsion Axles with EZ Lube Hubs |
| Tires | 5 Bolt Hubs with Grease-able Cone Bearings Street Tires |
| Hitch | 2 5/16" ball hitch |
Chemical Boom Trailer Applications
The 300 gallon chemical sprayers can store a variety of liquids, like potable and non-potable water, chemically treated water, pesticides, and other chemicals. This boom trailer also has a 3-section 21' rear-mounted spray boom that has a 12-volt electric on and off controls. The spray boom can be used in several applications from agriculture spraying to dust suppression.
Frequently Asked Questions
Chemical Sprayers Questions and Answers
Yes, chemical containers can be refilled and reused once emptied. However, the new liquid used will need to remain the same as the tank's original contents. Once poly tanks have been used for fertilizers, pesticides, or other chemicals, alternating between substances should most times be avoided. This is because harmful residue can be left over without advanced cleaning methods, even in small or barely visible amounts. We advise purchasing a new container for new applications. Never consider a container potable once used in a non-potable fashion.
One of the best ways to measure how much you'll get out of your chemical sprayer is by analyzing the PSI. The PSI, or pounds per square inch, is a unit of pressure calculated by dividing the perpendicular force (in pounds) by the area (in square inches). Our 300 gallon water trailer comes equipped with a Hypro Series 2150 diaphragm pump with an adjustable pressure regulator; at a 100 PSI Max. It also includes a rear-mounted spray boom and a spray hose with a spray gun.