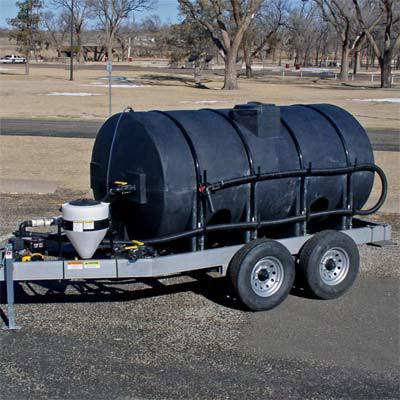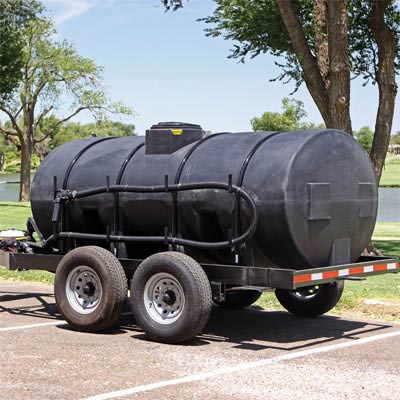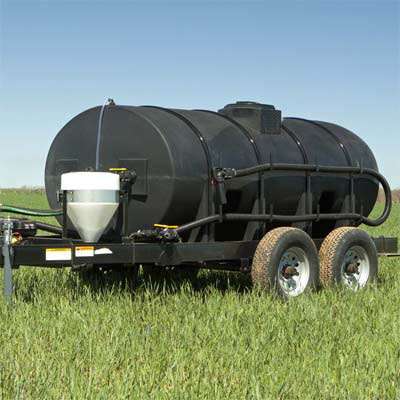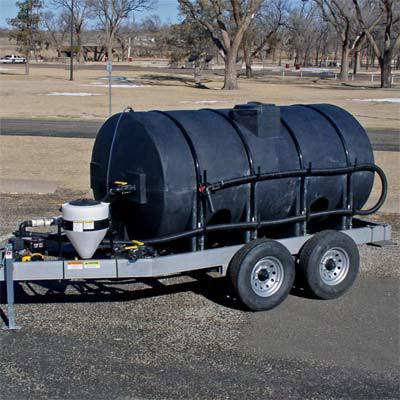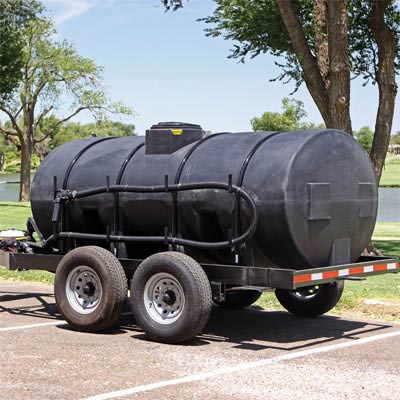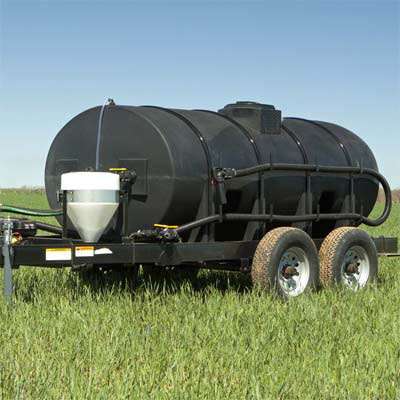 Fertilizer Trailer
Ag Spray Nurse Trailer
The economical fertilizer trailer is built rugged for farm use in the ag spraying of fertilizers, herbicides, and water. The Ag Spray Nurse Trailer's tank is available in 1200 and 1600 gallons and is mounted to the base of the frame for a lower center of gravity. This makes it easier to tow and a practical for unpaved roads and field use. It is non DOT and is for farm or off-road use only. Contact us for more information on our chemical trailer selection.
Fertilizer Trailer Features
1200 and 1600 gallon tank sizes
E-Z service side fillwell
Bottom-drain sump with 2" anti-vortex fitting
Fertilizer Trailer Benefits
Low center of gravity for easy towing
Rated for fertilizer use
Economical with custom options available
Fertilizer Trailer Details
The fertilizer nurse trailer's base package is an economical choice and includes only the features commonly needed. Additional features can be added to customize the fertilizer trailer to fit your specific ag spraying needs. Available as a 1200 gallon nurse trailer, you can also select the 1600 gallon tank option for larger farming applications. In either fertilizer nurse trailer model, the elliptical poly tank is mounted securely to the base of the trailer frame, rather than to a higher point on the frame as in some models. This provides a lower center of gravity for easier towing over uncertain terrain.
Three convenient options are available for filling the tank: through the E-Z service side fillwell, using the optional quick fill fitting and trailer pump, or using the optional quick fill fitting without a trailer pump. The base of the tank features a bottom-drain sump with 2" antivortex fitting. To help control movement of fluids in the tank during transport, the fertilizer nurse trailer tank includes a partial baffle that has been molded to the tank. Additional surge control baffles are also available.
Wylie Fertilizer Trailer Specifications
Frame
6" (1250)
7" (1600)
Axles
Tamdem slipper spring
Weight
2140 lbs
Dimensions
205"L X 99"W
Axle Rating
7000 lbs each
*Note: Contact Us for optional features for the Wylie Fertilizer Trailer.
Ag Spray Nurse Trailer Applications
This ag spray nurse trailer has been designed to transport water, fertilizer, herbicides, and other non-petroleum-based solutions for ag spraying operations. It is rated for on-farm/off-road use only and is not for use on public roadways.
Fertilizer Trailer Frequently Asked Questions
Chemical Sprayer Questions and Answers
This fertilizer nurse trailer is built for use on-farm only and is not legal to dive on public roadways. It is designed for affordability, and therefore is not equipped with the DOT required components (brakes, fenders, lights, etc.) If you need a 1200 gallon nurse trailer that can be used on public roadways, please contact us. We have a full line of trailer offerings and can help you find the right one for your needs.
It is very easy to add a pump and engine to this model of fertilizer nurse trailer. Contact us for a list of available options .