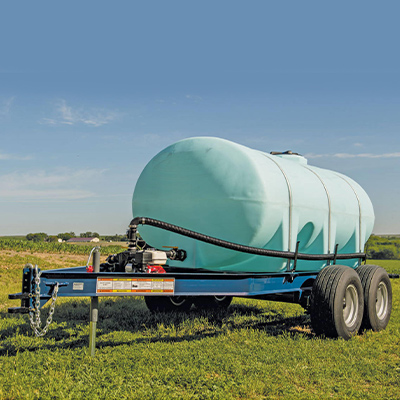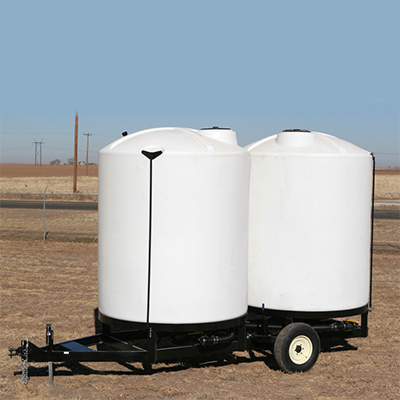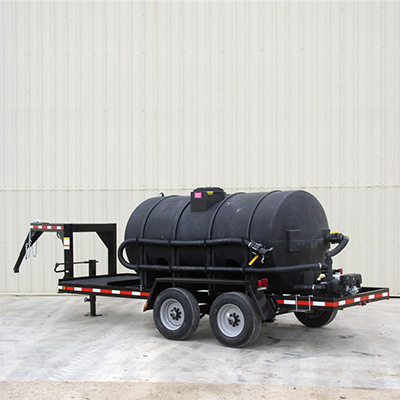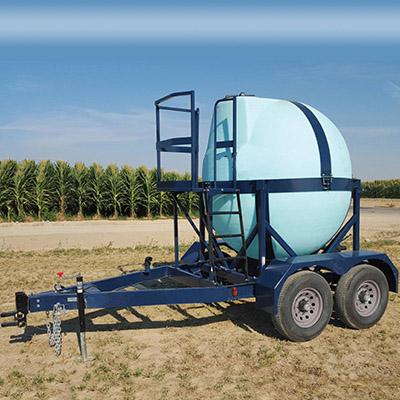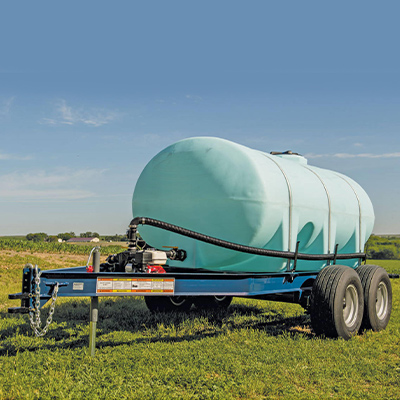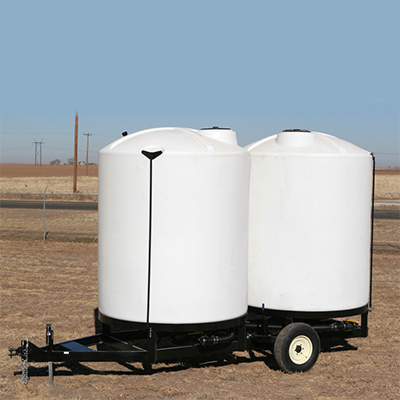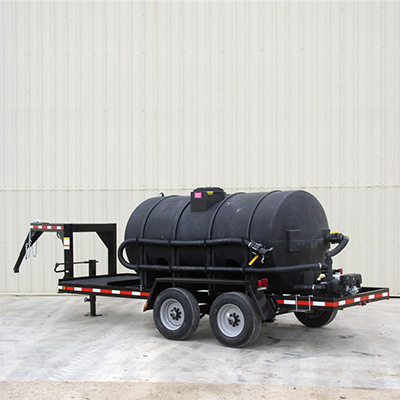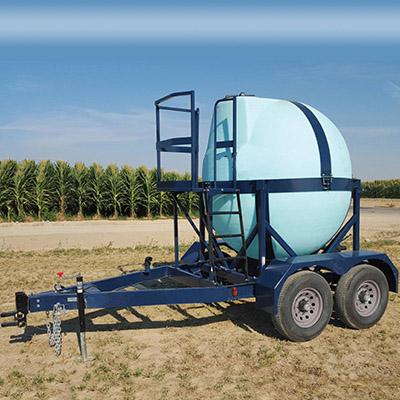 Fertilizer Trailer
Ag Spray Nurse Trailer
Fertilizer trailers encompass a wide variety of models and styles of nurse trailers. As an economical fertilizer trailer, they're built rugged for farm use in the ag spraying of fertilizers, herbicides, and water. Ag Spray Nurse trailers come in different gallon capacities, ranging from 500 to 3000 gallons, and depending on the type and model of fertilizer trailer these can be DOT ready and taken out onto the open highway. Conversely, these water trailers can be used on back farm roads. With both stationary and portable fertilizer trailer, you will find an abundance of options and features to choose from. Choose from Nurse Trailers, Gooseneck Trailers, Ball Trails, and more. Contact below for more details.
Fertilizer Trailers Features
500 Gallon to 3000 Gallon Capacities
Black and Translucent Tanks
100 Percent Drainable or Flat Bottom Tanks
Fertilizer Trailers Benefits
Highway Models Available
Fertilizer Agitator Options
Economical with Custom Options Available
Fertilizer Trailer Model Details
Nurse Trailers come in a wide variety of sizes and can be used for numerous applications, but are especially popular for use as water or fertilizer trailers. With capacities ranging from 500 to 1600, these fertilizer trailer come outfitted with different options and add-ons to meet your specific needs. The tanks can either be flat bottom or drainable leg tanks and are often used for Fertilizer Trailer Applications.
Unless otherwise stated, the nurse trailer features a standard style frame. Some tanks sizes offer the addition of either an extended tongue trailer or a gooseneck trailer as options. While nurse trailers tanks are typically round or elliptical horizontal tanks, we do also offer models with other styles such as Cone Bottom Tank Trailers and Ball Trailers.
Cone Bottom Trailers come in both stationary and portable models. With gallon capacities ranging from 1020 to 3000 gallons, the 100 percent drainable cone bottom tank is perfect for fertilizer applications. Perfect for temporary liquid storage for large capacities, the cone bottom trailers can come with optional inductor units and plumbing packages.
Gooseneck Trailers are made to carry heavy gallon capacities on the open highway and transport them with ease. With fertilizer trailer applications, this means more bang for your buck and heavy duty water based chemical transport.
Ball Trailers are uniquely sphere-shaped tanks on heavy channel iron trailers. With a capacity of 1100 gallons, the heavy duty fertilizer trailer drains completely and works well with agitators and eductors for the mixing of chemicals.
Fertilizer Trailer Capacities
*Note: Contact Us for optional features for the Fertilizer Trailer.
Ag Spray Nurse Trailer Applications
The Ag Spray Fertilizer Trailer is made for agricultural applications on farms, homesteads, grow houses, botanicals gardens and more. Choose from a wide assortment of spray booms, spray bars, nozzles, hoses, spray guns, engines, pumps and mixers to customize the ag trailer to precisely what you need. Use them on your farm to tend to planters and sprayers. With the fertilizer trailer you can mix farm chemicals and fertilizer with water, and use the fertilizer trailer to cover acres of land per hour.
Fertilizer Trailer Frequently Asked Questions
Chemical Sprayer Questions and Answers
Depending on the type of Fertilizer Trailer, you can take Ag sprayers on public roads, depending on the custom add-on you use to outfit the fertilizer trailer, making it safe enough to interact with other vehicles on a highway.
Our fertilizer trailers come with a plethora of options, including: electric brakes, lights, fenders, adjustable height ball coupler, highway tires, step platforms, plumbing packages, chemical inductor systems, bottom load plumbing and recirculation nozzles.