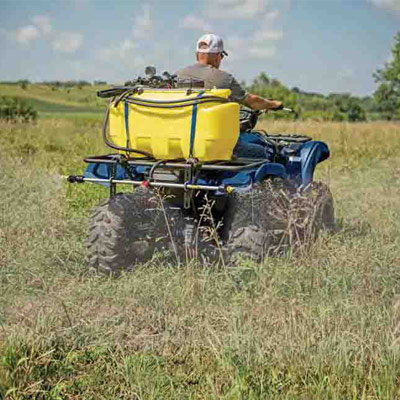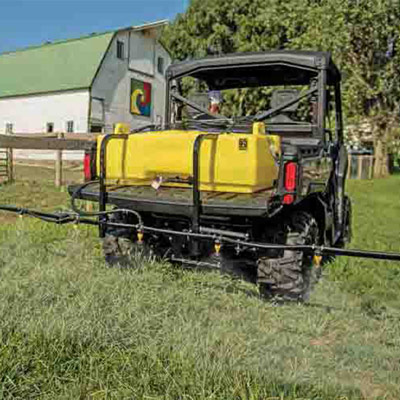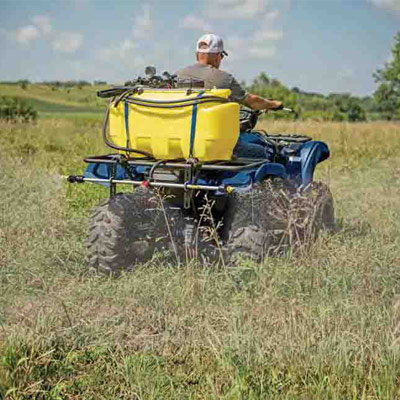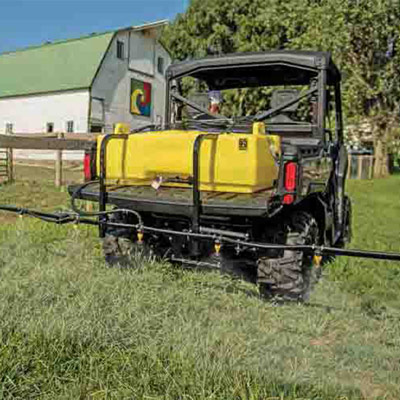 ATV Ag Sprayer
ATV Mounted Boom Sprayer
ATV Ag Sprayer is widely used for pest control, weed control, fire suppression, and a variety if other applications. Coming in 15 and 25 gallon capacity options, the ATV sprayers is easily placed in the back of the vehicle of your choice, including UTVs, pickup trucks, and All-Terrain Vehicles (ATVs). Our ATV Ag Sprayers feature heavy duty materials meant to stand up against rigorous outdoor use. All of our skid sprayers are customizable with accessories like booms, sprayers, nozzles, and more options.
*Inventory levels change continually and vary by location and features required. Call for availability.
Looking for other features? We have an assortment of water trailer vendors with an extensive offering of styles, sizes, and components at exceptional pricing. All capacities listed are for use with water storage. We ship from warehouses across the U.S. and our team will work with you to provide the equipment that fits your needs, delivered within the time frame that you need it. Contact Us for information on other liquid storage options.
ATV Sprayer Tank Features
15 and 25 Yellow Poly Tanks
Pump and Engine Options
Easily Placed on ATVs, UTVs, and Pickup Trucks
Boom and Nozzle Options
ATV Sprayer Tank Benefits
Durable, Heavy Duty Materials
Very Popular Products for Landscaping
Features Make Spraying Easy and Convenient
Customizable to Fit Your Needs
ATV Ag Sprayer Details
The ATV Ag Sprayer includes different features depending on the accessories and options you choose. Our product options (FS-ATV-25BL-4.0, FS-ATV-15 § and FS-ATV-25 §) come with different levels of coverage and power to best fit your application needs. Product FS-ATV-25BL-4.0 has a tank capacity size of 25 gallons and coverage of 30 feet. The ATV Ag sprayer features a 12 volt pump and 5.5 HP engine. Other features include 3 nozzle shutoffs, 3 polypropylene nozzles with 30 feet spray swath, bypass kit with gauge, adjustable nozzle angle and positive shutoff handgun with 15 feet of hose.
Products FS-ATV-15 § and FS-ATV-25 § feature a 15 or 25 gallon poly tank. These ATV sprayers have a 2.2 GPM Shurflo pump at 100 PSI. Other features include a handgun kit, bypass kit with pressure gauge, 8 feet of electric cord and battery clip, and adjustable boom bracket. ATV sprayer tanks are molded for easy clean out and are equipped with a tether threaded cap. And other accessories and add-ons that customize and enhance the spraying application.
ATV Ag Sprayer Specs
ATV Tank Sprayer - Option 1
Product Number: FS-ATV-25BL-4.0
Tank: 25 Gallon Poly Tank
Engine: 5.5 HP Engine
Pump: 12 Volt Pump; 4.0 G.P.M.; 45 PSI
Other: 3 Individual Nozzle Shutoffs
3 Polypropylene Nozzles with 30 Feet Spray Swath
Bypass Kit With Gauge
Adjustable Nozzle Angle
Positive Shutoff Handgun With 15' Of 3/8" Hose
ATV Tank Sprayer - Option 2
Product Number: FS-ATV-15 § & FS-ATV-25 §
Tank: 15 or 25 Gallon Poly Tank
Pump: 2.2 GPM Shurflo Pump; 100 PSI
Other: Handgun Kit - R1ALMe
Bypass Kit With Pressure Gauge
8' Electric Cord With Battery Clip
Adjustable Quick-Tach Boom Bracket
ATV Spray Unit Accessories and Applications
ATV spray units have the capacity to fulfill the requirements of multiple applications. ATV Ag Sprayers can be used for agricultural applications, landscape property applications, on homesteads, businesses, farms, and more. ATV spray units are a popular products for pest and weed control and different landscaping needs and applications. We also carry a variety of handgun sprayers and lawn and garden sprayer booms to add to the versatility of your ATV Sprayers. For more information about the different accessories we carry, Contact Us.
ATV Ag Sprayers FAQs
The ATV Ag Sprayers can be mounted in the back of almost any vehicle. On ATVs, UTVs, pickup trucks and other open back vehicles can easily accommodate the sprayer. Easy to place and use, the ATV Ag Sprayers are versatile, popular pieces of equipment for landscaping and agricultural applications.
We offer a variety of boom and boomless options for our skid sprayers and ATV Ag spray tanks. Our adjustable pattern nozzles include: Blue Thermoplastic Refinery Fog Nozzle, Garden Hose Spray Nozzle, and Fire Hose Nozzle. We carry booms with nozzle options ranging from 2 to 7 nozzles with coverages up to 140", and boomless sprayers with coverage of 30 feet. Boom options:
FSBK-2: a 2-nozzle boom with 80" of spray coverage
FSBK-5: a 5-nozzle folding boom with 100" of spray coverage
FSBK-70: 7-nozzle folding boom with 140" of spray coverage
FSBK-3025BL: 3 nozzle boomless with has 30' of spray coverage