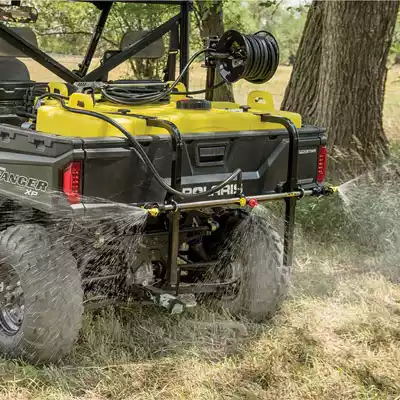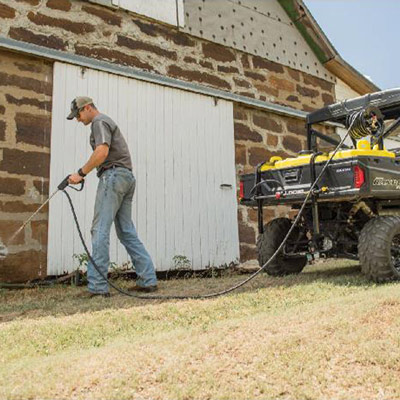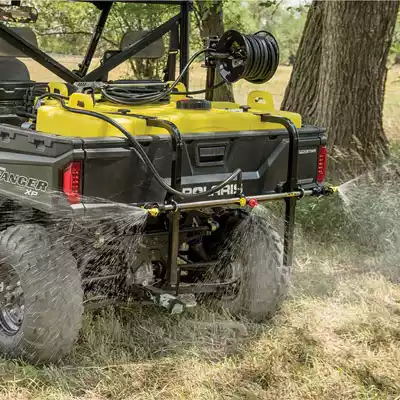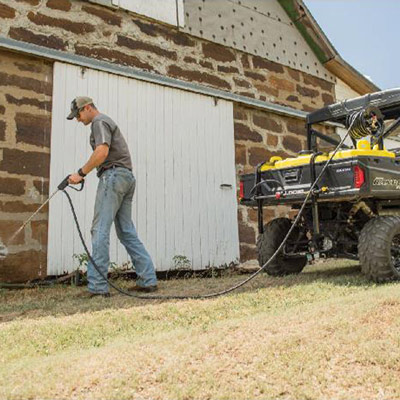 UTV Boomless Sprayer
UTV Sprayers for Sale (Boomless)
UTV Boomless Sprayer are built with heavy duty materials to spray and water grass or crops wherever you may need. The UTV Boomless Sprayers come in 45 and 65 gallon options that deliver dependable use when you need it most. UTV Boomless Sprayers deliver dependable watering and spraying. Our two Boomless Sprayer options give you a wide spray coverage that's easy to maneuver and easy to monitor. Features of our UTV Boomless Sprayers include high powered pumps, deluxe handgun sprayer, and molded poly tank for easy installation and cleanout. Our UTV Boomless Sprayers are customizable and made in the USA. We also offer UTV Sprayers with Boom.
*Inventory levels change continually and vary by location and features required. Call for availability.
Looking for other features? We have an assortment of water trailer vendors with an extensive offering of styles, sizes, and components at exceptional pricing. All capacities listed are for use with water storage. We ship from warehouses across the U.S. and our team will work with you to provide the equipment that fits your needs, delivered within the time frame that you need it. Contact Us for information on other liquid storage options.
UTV Boomless Sprayer Features
Poly Tank: 45 and 65 Gallons
1 Year Warranty
Molded In Drain Tank
12 Volt Pump and Handgun
UTV Boomless Sprayer Benefits
Multiple Nozzle Options for Boomless Sprayer
Multi-lid Measuring Cup Attached
Heavy Duty Materials
Made in the USA
UTV Mounted Sprayer Details
UTV Mounted Sprayer with Boom are made with different features and benefits intended to give you greater reliability when watering and spraying. Our Boomless UTV Mounted Sprayers can be easily placed in the back of UTVs, ATVs, pickup trucks, and other vehicles. The heavy duty roto molded tanks have a molded in drain for easy cleanout. The tanks are also equipped with a Multi-Lid to easily measure any products you might be putting into the tank. Other features of the UTV Boomless Sprayer include the 12 Volt Shurflo Pump with 4.0 GPM, 45 PSI power, the hose wrap holder with 25 feet of 3/8" hose, and the optional deluxe handgun sprayer with an adjustable pattern tip.
Our boomless sprayers come with different nozzles that spray laterally across crops and grass. Our boomless nozzle options include the 3 Nozzle Boomless Boom and the 4 Nozzle Boomless Boom. See our Boomless Sprayer options below:
3-Nozzle Boomless: 30' Spray Coverage
4-Nozzle Boomless: 34'-38' Spray Coverage
Boomless Boom Assembly With 1 TeeJet KLC Tip
Boomless UTV Sprayer Specs
Product Number
FSUTV45-12V § 5302903 - 45 gallon UTV sprayer
Product Number
FSUTV65-12V § 5302904 - 65 gallon UTV Sprayer
Tank
Heavy Duty Roto Molded 65 and 45 Gallon Polyethylene Tank
Low Profile For Improved Stability / Center Of Gravity
Molded Handles For Easy Installation In UTVs
Pump
Conveniently Positioned Pump / Manifold Near UTV Cab To Easily Set Sprayer P.S.I.
12 Volt ShurFlo Pump, 4.0 G.P.M.: 45 P.S.I. Max
Note
Can Be Used With UTV Tailgate Closed Or Open
Hose Wrap Holder With 25 Feet Of 3/8" Hose
New Multi-Lid Included
Optional
FSUTV-HR-50 5302919 Hand crank hose reel - 3/8" x 50 feet of hose
Product Number: FSUTV45-12V § 5302903 Boomless
Tank Dimensions: 36" x 30"
Dry Sprayer Weight without Boom: 46 lbs
Dry Sprayer Weight with Boom: 66 lbs
Sprayer Weight Filled: 450 lbs
Product Number: FSUTV65-12V § 5302904 Boomless
Tank Dimensions: 47" x 34.5"
Dry Sprayer Weight without Boom: 58 lbs
Dry Sprayer Weight with Boom: 72 lbs
Sprayer Weight Filled: 625 lbs
UTV Mounted Sprayer Downloads
UTV Sprayer Tank Applications
UTV Sprayers with Boomless attachments can be used in a variety of applications and jobs. For weed control, pest control, crop spraying, grass watering, fire suppression and more. Our innovative tank design allows for improved stability with a better center of gravity than other tanks and molded handles allows for easier installation into UTVs.
UTV Boomless Sprayer FAQs
Yes, we do carry UTV Sprayers with Boom attachments. See our UTV Sprayers with Boom here. We carry a variety of nozzle options for our UTV Sprayers with boom. With nozzle options ranging from 2-nozzle to 7-nozzle boom attachments, with spray coverage ranging from 100" to 140", you'll be sure to find dependable and reliable spraying.
The difference lies in the nozzle spray direction and the number of nozzles on the spray attachment. With spray boom attachments, the nozzle point down, directly on the grass or crop being watered. With boomless spray attachments, the nozzles spray laterally, give you a wide spray coverage. Both options are great for watering and spraying, but have their own unique benefits. Choosing between them will be determined by the type of spraying you wish to accomplish. As a general rule, Boomless Spraying attachments are easy to maneuver because they offer a more compact setup. Boom sprayer attachments, however, offer better wind resistance because they are closer to the ground. For more information on our Boom and Boomless spray attachments, Contact Us!