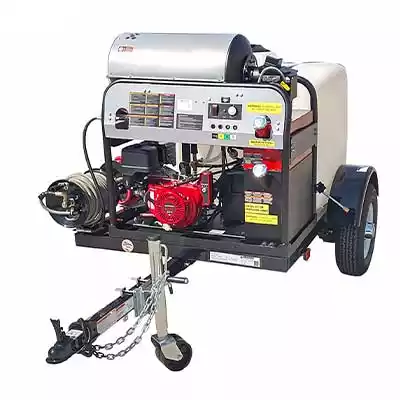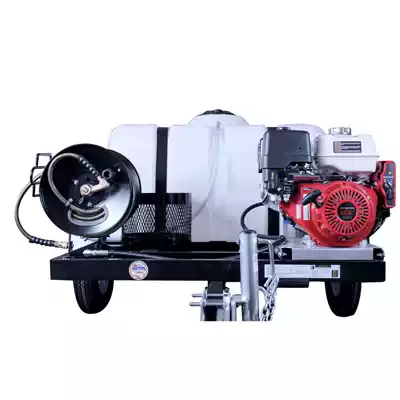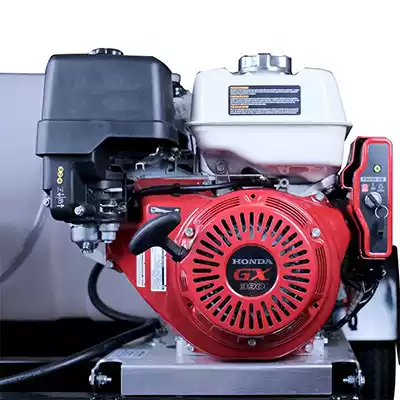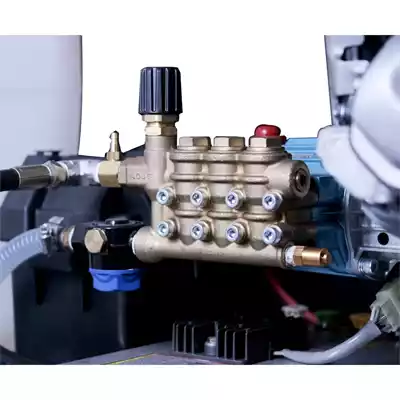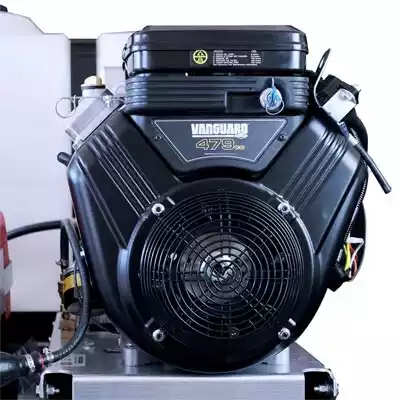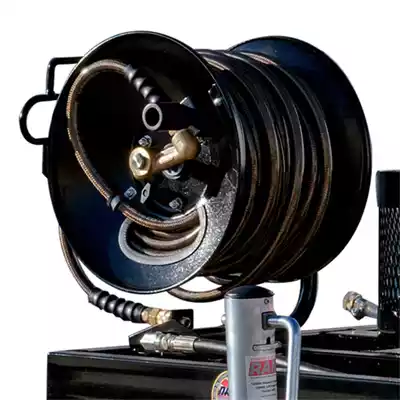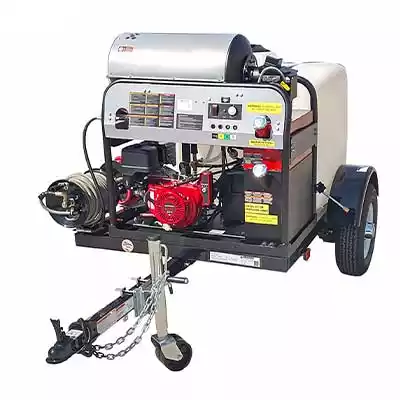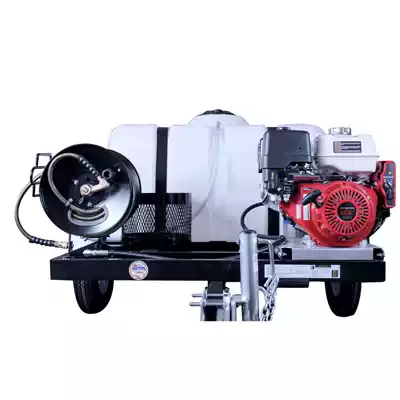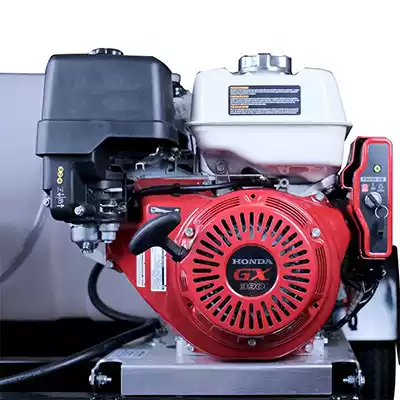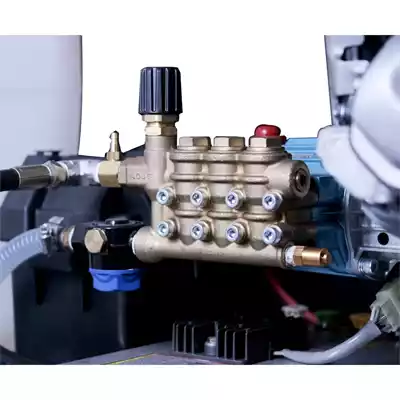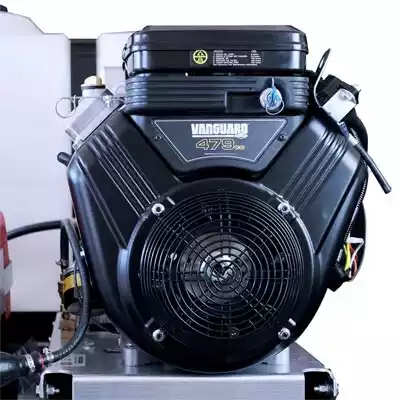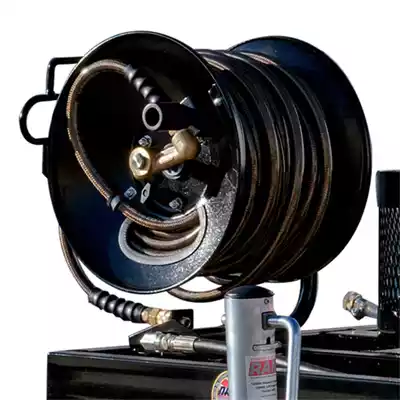 Commercial Pressure Washer
4000 PSI Cold Pressure Washer Trailer
The powerful commercial pressure trailer with 4000 PSI comes in different variations, ready to meet your specific needs. Our mobile pressure washer trailer systems can handle all commercial jobs and are perfectly suited for cleaning, mobile detailing, municipalities, resorts, playgrounds, farm equipment and much more. Equipped with a 49-state compliant Honda engine and reliable CAT Pumps triplex pump, you'll be sure to find the exact right product for you.
Need help deciding which pressure washer trailer you need? See: Pressure Washer Trailer Comparison (pdf) or call us!
4000 PSI Commercial Pressure Washer Features
Honda GX390 Engine or Vanguard V-Twin Engine
CAT Triplex Plunger Pump
Water tank size: 150 gallons
4000 PSI, 4 GPM
4000 PSI Commercial Pressure Washer Benefits
Suited for Numerous Applications and Jobs
DOT Certified Trailer
Comes with Engine and Pump Options
*The stated price includes freight within the continental United States. For other destinations, please contact us for pricing.
Commercial Pressure Washer Trailer Details
The cold water pressure washer mobile trailer comes in three distinct models, the 95002, 95003, 95004. The mobile pressure washing trailer (95002) is the basic model of the Commercial Pressure Washer. With a Honda GX390 engine that has a low oil shutdown feature, and reliable CAT triplex plunger pump, this commercial pressure washer is dependable. The fuel tank capacity is 6.4 quarts and the water tank size is 150 gallons. Building on that base model, the mobile trailer 95003 model has the added benefit of an electric start. The Mobile Trailer 95004 model features a 4200 PSI at 4.0 GPM Vanguard V-Twin engine with an electric start. With the Vanguard engine, it can ship all states including California. All of these models include a steel-braided Monster Hose is abrasion resistant with a polyurethane outer jacket and a connect fitting. The trailer itself is 9 feet (4 ft. xx 5.5 ft. platform). The Commercial Pressure Washer Trailer comes with 5 quick connect nozzle tips: 0°, 15°, 25°, 40° and soap to use for a variety of cleaning applications. The 2,000 pound single axle construction and a robust fuel tank capacity. For additional details give us a call at 863-261-8388.
Mobile Pressure Washing Unit 95002: Base Model with Honda Engine
Mobile Pressure Washing Unit 95003: Honda Engine with Electric Start
Mobile Pressure Washing Unit 95004: Vanguard V-Twin Engine
The types of detergents we carry include:
See our
'Featured Products'
at the bottom of the page for more information.
4000 PSI Commercial Pressure Washer Specs
Power Type
Gasoline
Drive Type
Direct
PSI
4200
GPM
4
Pump Type
CAT PUMPS Triplex
Pump Brand
CAT
Engine Brand
HONDA (49-state compliant)
VANGUARD
Pump
CAT PUMPS®triplex
Hose
Steel-braided Monster Hose 3/8 in. x 50 ft.
Gun
M22 connection
Wand
QC spray gun
Nozzles
5 Quick connect nozzle tips: 0°, 15°, 25°, 40° and soap
Frame
9 ft. (4 ft. x 5.5 ft. Platform)
Tires
12 in. Premium 6-ply
Series
Mobile Trailers
Warranty
3 Year Limited Commercial Engine Warranty
2 Year Limited Commercial Pump Warranty
1 Year Frame Commercial Warranty
90 Day Limited Accessory Warranty
Commercial Pressure Washer Applications
With such power and versatility, this mobile Commercial Pressure Washer trailer can be used so many different ways. The heavy duty cold-water pressure washer trailer is popular with municipalities, businesses, and for use in sanitation, wash-downs, cleaning, prewetting concrete for construction, spraying down livestock pens for poultry or pigs, or cleaning playgrounds and exterior buildings.
When it comes to a jack-of-all-trades commercial pressure washer, this is it. The reliable cold water pressure washing system allows you to pull up to a work area and begin to get to work. You can connect the spray gun, start the engine and start cleaning. It's as easy as that.
For freeze protection for your water trailer or skid, our Water Trailer Heater Blankets are exactly what you need . When cold weather affects the viscosity of fuel, fluids, and other materials you can lose production time, adding additional costs. Power blankets keep your tanks and smaller corrugated/steel tanks at constant temperature, preventing fluids from freezing in extreme conditions. We customize thermal blankets to meet your specific needs, no matter the tank size or shape. Call us today to find out more!
Frequently Asked Questions
Commercial Pressure Washer FAQs
The engine options we have for our commercial pressure washer trailers include the Honda GX390 engine with a low oil shutdown feature. We also offer the Vanguard V-Twin engine for our commercial pressure washer trailer (95004). The pumps we offer include the reliable CAT Triplex Plunger Pump.
We ship our trailers all over the U.S. Depending on what product you're interested in, you should speak with our sales representative to determine the best price and freight for your budget. For instance, the Honda GX390 engine that we carry does not ship to California, but the Vanguard V-Twin engine does. Once you finalize your order, you can expect your commercial pressure washer trailer to ship in 5-7 days, depending on the supply chain. For information on prices, freight, and shipping costs, contact our sales team.