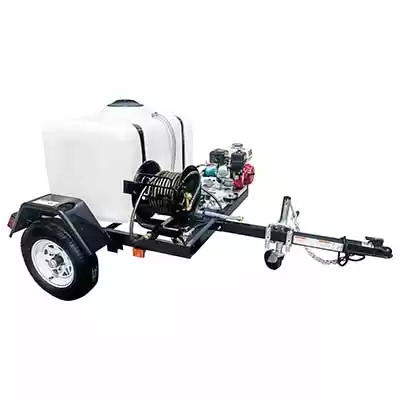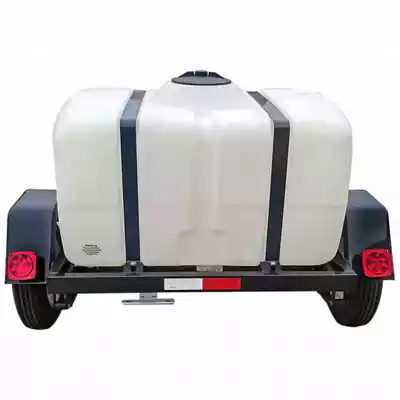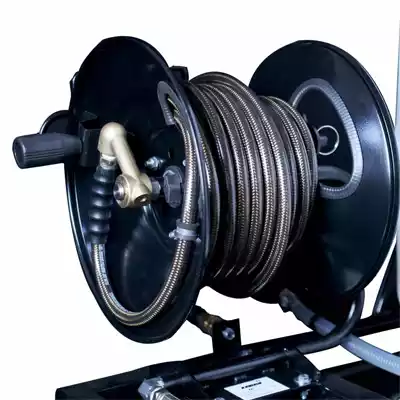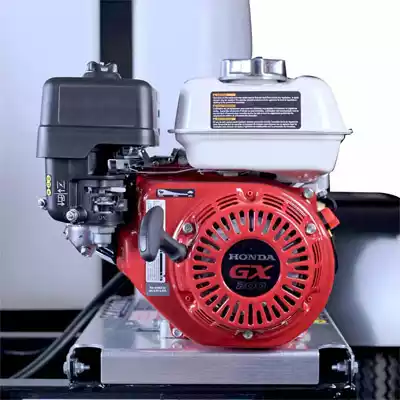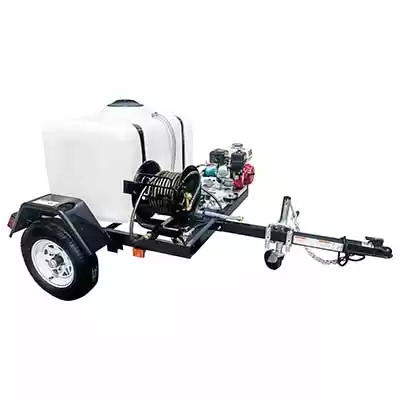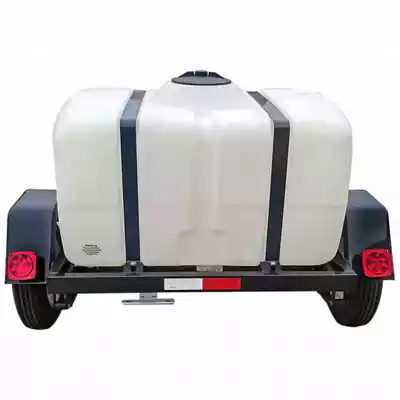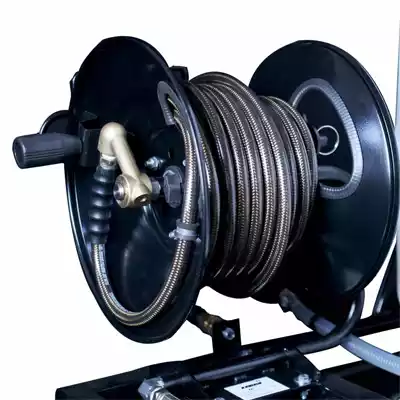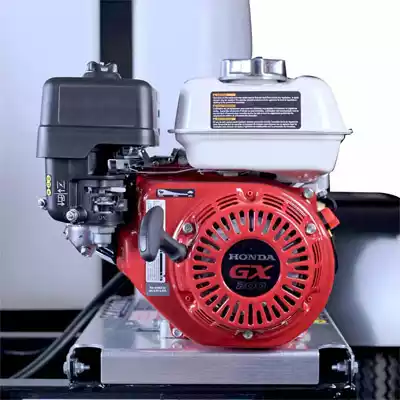 Small Pressure Washer Trailer
Industrial Mobile Pressure Washing Setup
Our small pressure washer trailer is lightweight and easy to move, but tough on the hardest cleaning and spraying jobs. This mobile pressure washing trailer (#95000) has 3200 PSI at 2.8 GPM with a Honda GX200 and CAT Triplex Plunger Pump. This gas-powered cold water industrial grade pressure washer trailer is great for a variety of cleaning applications for businesses, municipalities, and individuals. Mobile pressure washing set up is easy. When you pull up to the work site, you just need to connect the spray gun, start the engine, and get to work. Interested in learning more? Contact Us today!
This product may be eligible for financing; click here to start your financing application!
Small Pressure Washer Trailer Features
Honda Engine, CAT Triplex Pump
3200 PSI, 2.8 GPM
5 Quick-Connect Nozzles
100 Gallon Water Tank
Small Pressure Washer Trailer Benefits
USA Made, Ships in 5-7 days
Mobile, Industrial Lightweight Pressure Washer
Durable and Reliable
*Stated price includes freight within the continental United States. For other destinations, please contact us for pricing.
Small Pressure Washer Trailer Details
The powerful Mobile pressure Washing Trailers 95000 features a Honda GX200 engine with a low oil shutdown mechanism and a reliable CAT triplex plunger pump. The steel-braided Monster Hose 3/8 in. x 50 ft. is kink and abrasion resistant, and it has quick-connect fittings and a polyurethane outer jacket. Trailer itself in total is 7 feet with a 4 ft. 4 ft. platform. When you need to be prepared for anything your cleaning job could throw at you, the 5 quick-connect nozzle tips (0°, 15°, 25°, 40°) provide the versatility needed to get the job done. The water tank size is 100 gallons, and the fuel tank capacity is 3.3 quarts (3.1 liters). Use this mobile pressure washing trailer to address a wide assortment of cleaning applications with all-purpose detergents and non-caustic detergents.
The types of detergents we carry include:
See our
'Featured Products'
at the bottom of the page for more information.
Small Pressure Washer Trailer Specs
Power Type
Gasoline
Drive Type
Direct
PSI
3200
GPM
2.8
Pump Type
CAT PUMPS Triplex
Pump Brand
Pump Brand
Engine Brand
HONDA (49-state compliant)
Pump
CAT PUMPS®triplex
Hose
Steel-braided Monster Hose 3/8 in. x 50 ft.
Gun
M22 connection
Wand
QC spray lance
Nozzles
5 Quick connect nozzle tips: 0°, 15°, 25°, 40° and soap
Frame
7 ft. (4 ft. x 4ft. Platform)
Tires
12 in. Premium 6-ply
Series
Mobile Trailers
Warranty
3 Year Limited Commercial Engine Warranty
2 Year Limited Commercial Pump Warranty
1 Year Frame Commercial Warranty
90 Day Limited Accessory Warranty
Mobile Pressure Washing Trailer Applications
Known for its versatility and dependability, use the mobile pressure washing trailer for a variety of applications. The cold-water mobile pressure washing trailer is suitable for businesses, municipalities, and individuals. Construction sites and farmsteads will benefit from the versatility of the mobile pressure washing trailer. This pressure washer can be used for cleaning playgrounds, chicken coops, horse stalls, building exteriors, construction machinery, and much more. Individuals and households will greatly benefit from this mobile residential pressure washer when cleaning driveways, sidewalks, boats, cars, siding, or exterior home walls. You can use this pressure washing trailer for cold water applications, but if you need a hot pressure washing trailer, see our other products for more information.
Frequently Asked Questions
Small Pressure Washing Trailer FAQs
Yes, you can use the mobile pressure washer to wash windows but keep several things in mind. First, use the white, 40 degree nozzle and keep a good distance from your window. Second, before you wash your windows, inspect them for chipped or cracked calking or glazing, peeling paint, and other areas that would cause water to leak into your home while you pressure wash. Make sure you correct any issues or structural problems like these before you pressure wash.
The nozzle on your mobile pressure washer is what creates the pressure and spray pattern. You should make sure you're using the correct nozzle to get the full potential out of the machine. Additionally, the correct maintenance of the pressure washer nozzle, like making sure it is clean and free of debris, will ensure the proper functioning of your machine.