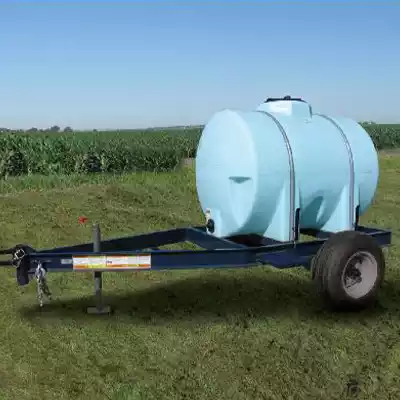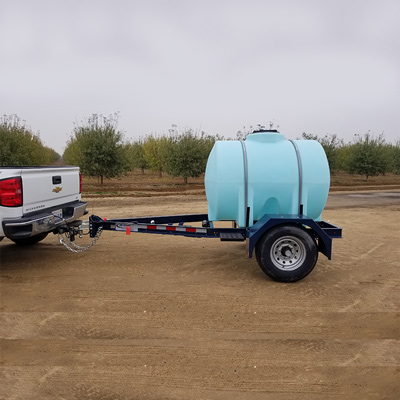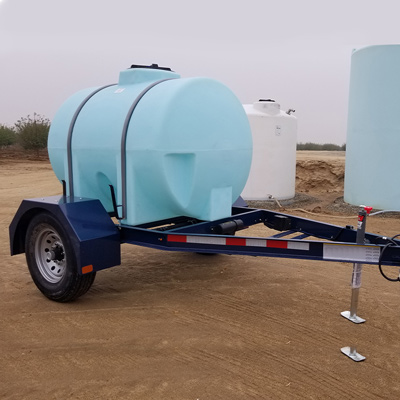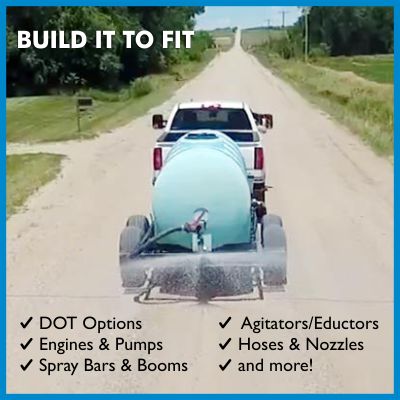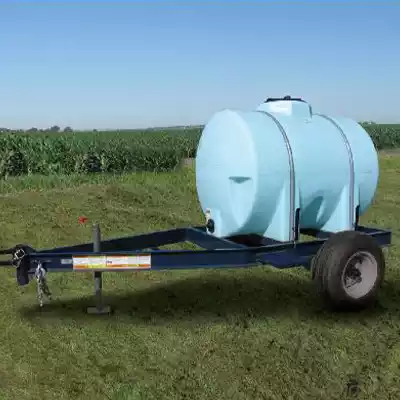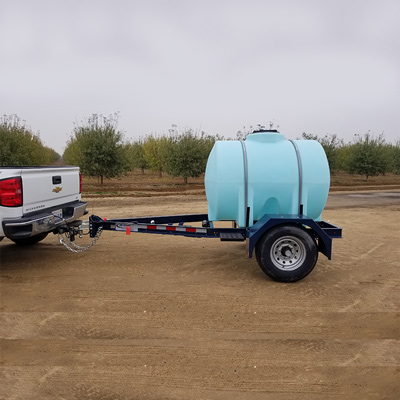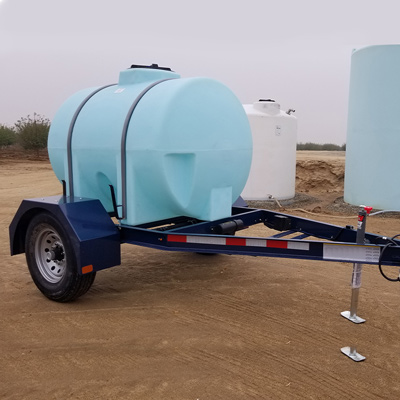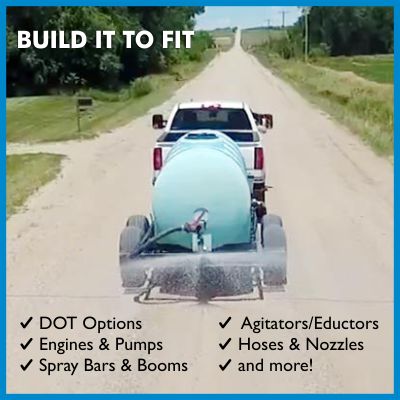 525 Gallon Water Trailer
Small Water Tank Trailer (525 Gallon)
525 Gallon Water Liquid Nurse Trailer is a small water tank trailer built to handle rigorous water transport needs. Made with heavy duty components, the water tank trailer can be outfitted with pump and engine, hose stands hooks, spray bar, high speed tires and more options. The frame has a 5 year warranty and the 525 Norwesco Leg Tank has a 3 or 5 year warranty. We can add different add-ons to make your water tank trailer meet certain DOT standards to be used on the open road. For more information on the 525 Gallon Water Trailer, give our call at 863-261-8388 or Contact Us below. For more information, see our Nurse Water Tank Trailer video below.
*Inventory levels change continually and vary by location and features required. Call for availability.
Looking for other features? We have an assortment of water trailer vendors with an extensive offering of styles, sizes, and components at exceptional pricing. All capacities listed are for use with water storage. We ship from warehouses across the U.S. and our team will work with you to provide the equipment that fits your needs, delivered within the time frame that you need it. Contact Us for information on other liquid storage options.
525 Gallon Water Trailer Features
Heavy Duty 5" Channel Iron Frame
Tank and Frame Warranty
525 Gallon Capacity Tank
Open Road Options
525 Gallon Water Trailer Benefits
Heavy Duty Features and Components
Used for Multiple Applications
Multiple Add-Ons and Options
525 Gallon Water Trailer Details
The 525 Gallon Water Trailer is made from Heavy Duty features and components that can be used in multiple applications and for various jobs around your jobsite or farmstead. The 525 Gallon Nurse Trailer comes with standard components and options for fenders, hose stands, hose hooks, lights, ball couplers, and inductor units. The 525 gallon tank for this water tank trailer can be purchased in a black model as well to block light from entering the water storage tank. This will prevent algae growth inside the tank. The 525 gallon water tank trailer can be outfitted with both engine and pump to make spraying, watering, and draining reliable and durable. Other detailed features include the high-speed cambered axles, adjustable clevis, 11L x 15 8 Ply tires, 15x 10 wheels, and step platforms. The water tank trailer frame is powder coated and the back is extended 2" to act as a bumper.
See all of the DOT Nurse Trailer Features we offer. Also check our Mounted Water Skid.
525 Gallon Water Tank Trailer Specs
Tank
525 gallon Norwesco Flat Bottom Leg Tank, top fill port, bottom dispensing port/drain 3 or 5 year nonprorated warranty
Supports
2" x 6" rectangular tubing cross member tank supports
Frame
Extra heavy-duty 5" channel iron frame, powder coated Rear of frame extends 2" beyond tank as a bumper
5-year warranty
Axle
Extra heavy-duty high-speed cambered tandem axles
8,000 lb slipper spring suspension
Tires
11L x 15 8 ply tires
15 x 10 wheels
Jack
Heavy-duty jack that folds up within frame
Extras
15,000 lb safety chains
Adjustable clevis
Step platforms
Optional
Many options for pumps and engines are available that can be mounted within the tongue for greater protection.
525 Gallon Water Trailer Downloads
525 Gallon Water Trailer Applications
The 525 Gallon Water Trailer can be used for multiple applications and uses. Whether you need water on your farmstead, property or jobsite, the small, but tough water tank trailer can be outfitted with accessories to meet your needs. Perfect for arena maintenance, dust control, fire fighting, agricultural, and potable water applications, the 525 gallon nurse water trailer. Because of its compact size, you can take the 525 Gallon Water Trailer in places where larger water tank trailers can't often go. Take the 525 Gallon Water Tank Trailer on campuses for landscaping, roadside construction sites, facilities with limited space, and more. With the correct, acceptable components you can have a DOT ready water trailer to take on the open highway. Contact Us for more details on that.
Farm Water Wagon Frequently Asked Questions
525 Gallon Water Trailer FAQs
The different options we have for this water trailer unit include a selection of tank choices and options for the trailer itself. For the tank you have the option of having a black leg tank to keep light out of the water stop algae growth. For the trailer itself, we have optional fenders, hose stands, hose hooks, spray bars, plumbing packages, inductor units, high speed tires, lights, ball couplers, and more.
The heavy duty components that make up your water tank trailer allow you the opportunity to use it for a variety of applications, whether on rural farmsteads, campuses, roadside construction and more. With the correct features on your water trailer you can take it on the open highway from jobsite to jobsite. These features include electric brakes, lights, fenders, high speed tires and more.